The artist who painted a giant 42-foot tall mural in Downtown Vancouver will be selling a limited edition print of her work this weekend – for one day only – in support of YWCA Metro Vancouver. Ola Volo's Wall for Women, was unveiled back in March at the corner of Burrard and Melville and has become synonymous with women's rights, the fight against domestic abuse.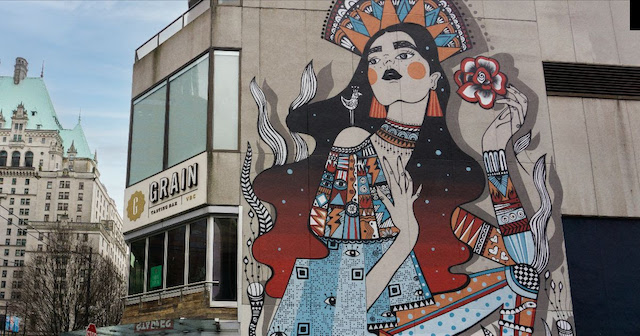 Limited Edition Ola Volo Print Supports YWCA
Due to the immense popularity of this mural and an innate desire to raise funds for women in need, Art Rapture, Ola Volo, Rethink Canada and the YWCA Metro Vancouver have joined forces to produce a high quality limited edition print for collectors around the world.
The Wall for Women was a permanent gift to the community that depicts the strength of women and shines light on the "shadow pandemic" of intimate partner violence. During the COVID-19 pandemic, domestic violence against self-identifying women has increased as much as 20-30% in parts of the country and kills a woman every six days.
"Coming onto this project, I thought a lot about what it takes to leave a domestic violence situation. It made me think of a powerful, brave queen who grants herself love and opportunities to thrive. Crown held high, she's looking forward to the future, protecting the fragile bird companion on her shoulder, and rising above the snake that's trying to hold her down.

I wanted the woman in this artwork to claim her confidence and her power back by taking up space. She isn't small or fading into the background. She's front and centre, and commands the attention she deserves – even in the busy streets of downtown Vancouver." – Ola Volo
The "YWCA for Women" print will be available to collectors around the world via a one hour time release. The edition will be limited to the number of units sold during 60 minutes. When the 60 minute mark is reached, the number of units sold will determine the edition size. From there, they will move to production and Ola Volo will sign and number each print before shipping out to collectors. Once the edition is determined, the "YWCA for Women" artwork will never be created again as a print, and the edition size will retain integrity for all collectors.
Details of the print:
20″ x 24″
Full colour, digitally printed, signed by Ola Volo
Sales will be open for one hour only on Saturday, August 28, 2021, from 11:00am to 12:00pm
Buy online only, for $125
Proceeds from all print sales will be donated to the YWCA Metro Vancouver.