Light Up Chinatown is new two-day event featuring a variety of family-friendly activities along East Pender and neighbouring streets happening this September. Presented by the Vancouver Chinatown Foundation and the Chinatown Business Improvement Association, enjoy everything from live entertainment, exclusive food collaborations, to glittering displays of lights and lanterns.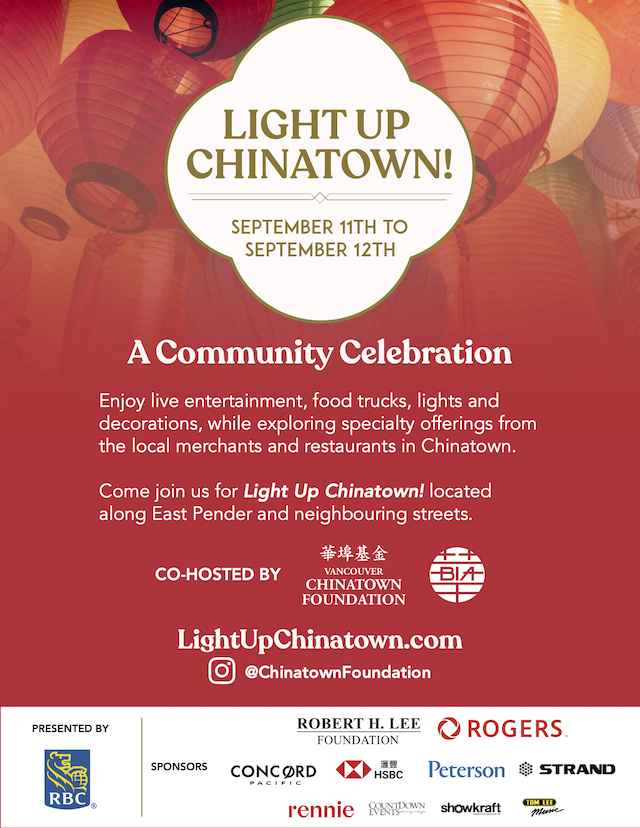 Light Up Chinatown
When: September 11-12, 2021
Where: East Pender & neighbouring streets
Admission: Free
"Our goal for Light Up Chinatown is to encourage people to reconnect with Vancouver's Chinatown, especially leading up to the Mid-Autumn Festival," says Carol Lee, co-founder and chair of Vancouver Chinatown Foundation. "The lanterns and lights are beautiful beacons, highlighting the vibrant, cultural history this special neighbourhood continues to hold and represent."
The two-day event kick-offs on Saturday, September 11, 2021 with an opening ceremony at the main stage on Columbia Street at Keefer at 11:00am. From there, attendees can join in on a variety of live festivities, including a performance by Goh Ballet, live music, magic show by Rod Chow, and food tastings while exploring shops around Chinatown for unique, specialty offerings.

Ken Tsui of Here There creative studio has brought together a line-up of culinary collaborations, bridging cultures together, including:
Vancouver Chinatown Foundation has also updated its Taste of Chinatown passport, a self-guided walking food tour where Light Up Chinatown visitors can sample must-try items from eateries. Passport maps will be handed out near the main stage on both days. Completed passports can be submitted to enter-to-win daily prizes from a variety of Chinatown businesses and restaurants.
There will also be an Instagram contest for those who share images throughout the two days, using the #LightUpChinatown hashtag and tagging @chinatownfoundation. The grand prize winner will win a Chinatown restaurant gift package.