FVDED Presents, 2021's version of the now iconic FVDED in the Park series, will be at the PNE Amphitheatre (and beyond) September 10-11, 2021.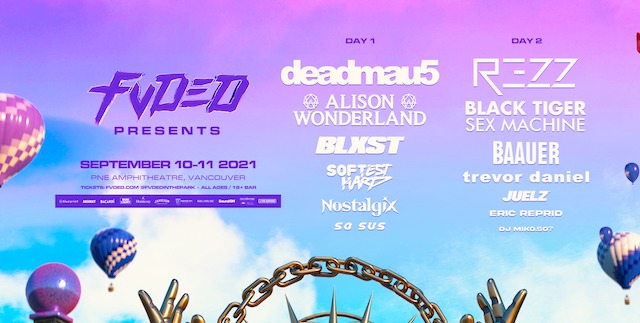 Playing at three locations across Vancouver: the PNE Amphitheatre, Celebrities and Fortune Sound Club, FVDED Presents reimagines the FVDED festival into a celebration of music and culture as a number artists come together for this special series of events.
FVDED Presents
"We are extremely proud of the deep connection the fans have with this festival," says Alvaro Prol, co-founder of Blueprint, who organizes the event along with partner Live Nation. "FVDED has become one of the most significant urban music festivals in Canada, drawing 50,000 fans each year. FVDED Presents is about connecting the artists, creatives and the music of FVDED with the fans in smaller festival experiences over two days."
September 10, 2021
DEADMAU5
Alison Wonderland
BLXST
Softest Hard
Nostalgix
So Sus
September 11, 2021
REZZ
Black Tiger Sex Machine
Baauer
Trevor Daniel
Juelz b2b Tails
Eric Reprid
DJ Miko So
Tickets
Tickets go on sale Friday, August 20, 2021 at 11:00am. Those who had tickets for FVDED in the Park (at Holland Park in Surrey) can transfer 2021 tickets to 2022 and still receive the $50 Legends Pack to use onsite for 2022. Organizers will be offering full refunds to anyone that would like them, Front Gate will send a message to fans tomorrow/Tuesday with updated information. FVDED In The Park ticket holders will also have an option to use your tickets to attend the PNE events, otherwise each event will be sold separately.