Indigenous rights charity Respecting Aboriginal Values and Environmental Needs ("RAVEN") presents Festival Afloat Vancouver, a unique, pandemic-friendly floating concert in the waters just off Jericho Beach. Featuring soul songstress Desirée Dawson, paddlers will surround the "Providence," a gorgeous wooden sailing ship that serves as the 'stage' for the evening's performance.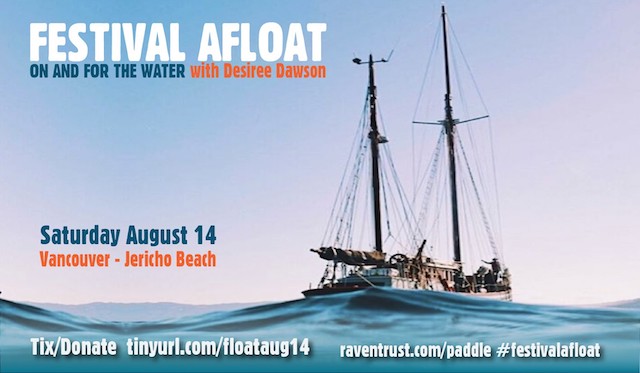 Festival Afloat Vancouver
When: Saturday, August 14, 2021 at 7:00pm
Where: Jericho Beach, Vancouver
Registration: Pay what you want online. Donations can still be made if you cannot attend.
Bring your canoe, kayak, stand-up paddleboard or rowboat to launch at Jericho Beach, or paddle over from Spanish Banks, Kits Beach or False Creek. It's summertime parking, so plan to arrive early and go for a swim or paddle before the 7:00pm start time. Facilitators will help load and unload boats and direct traffic.
This socially distanced, on-the-water concert offers people a way to come together in a creative, safe, and supportive way while offering a tangible way to stand in support of First Nations' access to justice.
This promises to be a joyous community gathering to raise funds for Heiltsuk Nation's "Step Up for Coast Heroes" campaign. The central-coast Nation is in the midst of a groundbreaking Indigenous Environmental Assessment project that pairs western science with traditional knowledge to uncover the full impacts of the Nathan E. Stewart disaster while charting a way forward to restore ecosystem health. The legal challenge – with support from RAVEN – is part of that path, as the case aims to enshrine the caretaker values and stewardship plans of Heiltsuk Nation into law.
For more information about this fundraiser and event, follow RAVEN on Facebook and Twitter.
A CBC radio favorite, Desirée Dawson's music has been featured on numerous CBC programs, has her songs on regular rotation and won the CBC Searchlight contest in 2016. Over the last couple of years, Desirée has been chosen for numerous high profile opportunities across the industry, whether as a songwriter in the Discovery Song Camp with Kenny "Babyface" Edmonds, a participant in the Allan Slaight JUNO Masterclass, artist in the Vancouver Folk Fest, a juror in the inaugural Black Canadian Music Awards, or various sync placements. Desirée passionately supports her community through a variety of music-based workshops and gatherings. Whether performing solo with her baritone Ukulele, in harmony with her band or leading sound healing workshops, Desirée's music is made to get us feeling and healing.