The Courage 2 Go Further campaign is an exciting initiative led by Coast Mental Health Foundation to help raise crucial funds to support people living with mental illness. It also aims to bring greater awareness to the benefits of physical movement as a tool to manage mental health. Registration is open now and the event runs through the summer until the end of August.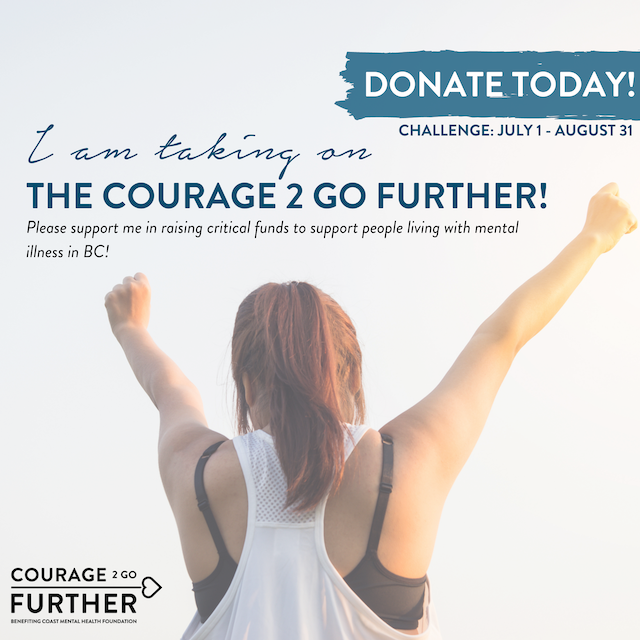 Courage 2 Go Further
The initiative encourages participants to complete a physical challenge of their choice at a time and place that is convenient for them. Everyone is invited to participate, no matter age or ability level, and there is no minimum dollar amount to hit for fundraising. It's completely up to the participants how they want to take part in the initiative.
How to Participate
Pick your Courage 2 Go Further challenge. What does 'going further' mean to you?
Sign up for your virtual goal and set up your profile – there's no cost to participate
Start fundraising! Find some fundraising tips here
Start training and share your journey with your followers using #Courage2GoFurther @CoastMentalHealth
Complete your challenge in August
Whether it's cycling, walking, dancing, or swimming, no challenge is too small—or too big. It's all about setting a personal goal and helping others in need along the way. Paracyclist, Olympian, 2x National Champion, World Cup and Pan Am Games Medalist, Joanie Caron shares the following message:
Why Take Part
1 in 5 people in Canada live with a mental illness and in our lifetimes, almost half of us will have had, or have experienced a mental illness. People living with a mental Illness can recover and live a fulfilling life, given the right supports. Because of you, thousands of people can work towards more independent and fulfilling lives, off the streets and out of hospital. 
For people living with chronic mental illnesses, the last year has been devastating. Isolation, change in routine, less access to crucial resources like affordable food, and lack of social interaction, can lead to major set-backs – in some cases, years' worth of work has been lost. 
About Coast Mental Health
Coast Mental Health Foundation is the fundraising partner of Coast Mental Health, BC's largest provider of community-based services for people living with mental illness. It provides the critical link between hospital services and our communities. Thanks to donors and supporters, the foundation provides essential community-based services to over 5,000 people living with mental illness so they can find their meaningful place in their communities—a place to live, a place to connect, and a place to work. 
Follow along on Instagram for more info and #Courage2GoFurther inspiration.