The 5X Festival is a two-week celebration of music, visual art, fashion and culture, presenting over 60 events and featuring 30 artists with the theme of #ComeTogether. With events taking place across Vancouver and Surrey, 5X Fest is the essential festival and digital community elevating South Asian youth culture.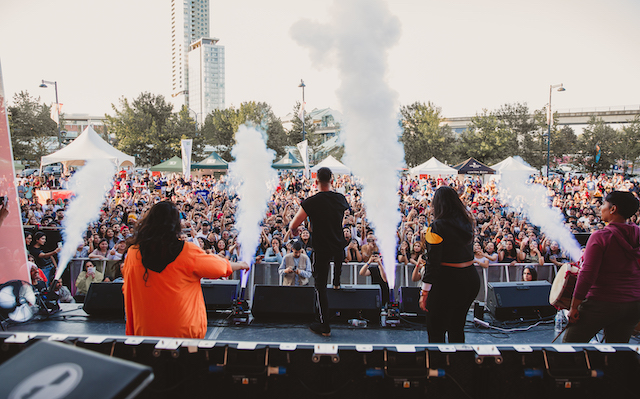 5X Festival in Vancouver and Surrey
When: September 6 – 19, 2021
Where: Various venues
Tickets: Available online now for the Blockparty (September 17-19)
5X is a global brand and online community that brings liberated spaces of social media into a real, physical experience. Their vision is to build a world where their audience not only belongs, but thrives.
5X Fest Blockparty
The marquee festival event is an outdoor block party, ordinarily averaging 10,000 attendees. Ready to get back to in-person events but monitoring the COVID-19 pandemic, this year's Blockparty is back, but micro-sized with a 300 person capacity.
The 5X Fest Blockparty 2021 will be held September 17-19 at The Beaumont Studios. This indoor/outdoor location is perfect for rain or shine. Spotlighting over 25 artists and creators from various genres that will #ComeTogether in a unique pop-up venue and art gallery featuring the work of local artists and designers. 
Their #ComeTogether art lounge will feature six bespoke collaborations between local creatives that have been under production through the summer. This pandemic-era initiative allowed 5X to organize and document eight collaboration sessions pairing local artists that have never worked together before. The art that is created from these collaborations will be showcased as art installation pieces at the festival. 5X Fest will also be releasing edited behind-the-scenes footage to Instagram and YouTube for you to follow their journey from creation to completion.
Sept 17
SPECIAL GUEST TBA
Cinnamon Sandhu
Karishma Deo
Aanam
Sept 18
The PropheC
REVÈ
Jeymon
BAINS.
Saint Soldier
Preet Purba
LIL INDIA

Sept 19
Fateh
Intense
Ikky
Raman Bains
Daksh Kubba
Naman Verma
Anjali
Attendees should note that 5X Fest will be adhering to all public health recommendations regarding face coverings, social distancing and group socializing in public. The event will have sanitizing touch points, sanitizer available to guests on site, COVID-19 symptom checks for staff and guests before entering the space and a COVID-19 Questionnaire for attendees filled out via QR Code. If you begin experiencing a fever, new cough or difficulty breathing, organizers ask that you please not attend for the safety of all involved.
More Events
5X Talks
When: September 6-10, 2021
Where: Instagram Live
The pandemic has changed us all. What have we learned? What will we carry forward? And how can we build back better? Featuring some of our favorite global creators and streamed live
5X Moves
When: September 10 & 11, 2021
Where: Various Locations, Surrey
This flash mob style celebration of South Asian movement will see 8 local dance crews do pop-up performances at iconic Surrey locations over the course of a weekend.
5X Afterparty
When: September 18, 2021
Where: Celebrities, Vancouver
Capacity: 250
An adaptation of a classic – for pandemic times. Our trademark club night featuring the city's best talent at the iconic Celebrities nightclub.
Follow the festival on Facebook and Instagram for more info.