Vancouver Whitecaps FC will return to their home stadium, for the first time in 539 days, to play in front of fans at BC Place on August 21, 2021. The club says that 'Caps faithful will be able to support their team at BC Place at that match and that their second home game will be against Real Salt Lake on Sunday, August 29.
Whitecaps Return to BC Place August 21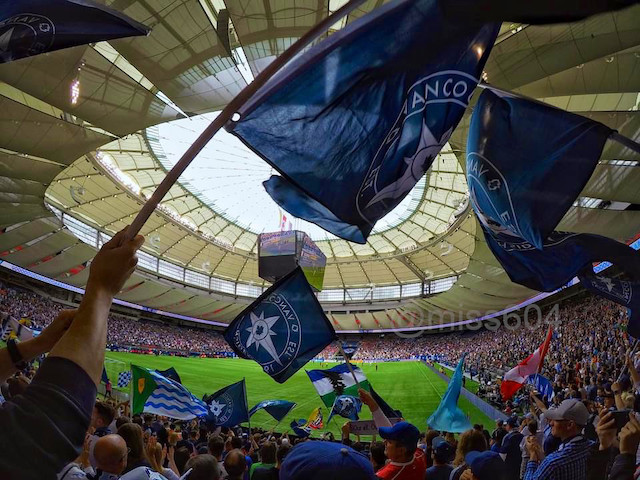 MLS teams will continue to abide by the cross-border public health protocols enacted on July 5th by the Canadian government, which are required of all individuals entering the country. In accordance with the national protocols, fully-vaccinated players and staff are not subject to a quarantine period, however, all individuals must conduct molecular COVID-19 testing prior to travel and upon arrival in Canada.
The announcement comes as MLS remains in communication with the Canadian government regarding plans for MLS Canadian teams to host their remaining home matches in Canada pursuant to a National Interest Exemption.
All three Canadian teams will be permitted to have fans and media in attendance at matches, in compliance with all national and regional guidelines.
"We are very, very excited to finally return home and play in front of our amazing supporters at BC Place," said Axel Schuster, Whitecaps FC sporting director and chief executive officer. "A number of our players haven't experienced the joy of playing in Vancouver with fans, so this will be a special moment. We would like to extend a big thank you to BC Place, the government, the league, and all of our partners for working closely with us to put in the safest measures possible."
Next week, season ticket members and pack holders will receive details outlining their priority seating and an exclusive purchase window for tickets.
Season ticket members and pack holders will receive priority on tickets and can use existing credit on their accounts for any match in 2021. All remaining credit will be rolled over into 2022.
Fan friendly seating will be separated by alternating rows of empty seats to ensure a safe distance.
Single match tickets will then go on sale following the window for members. There are also a limited number of Kickoff Packs, which includes the first three matches back at BC Place for only $99.90.
Also announced earlier this week, the club was able to work with Austin FC and BC Place to reschedule the 'Caps home match on Wednesday, July 28 to Saturday, September 4. Following the match against Minnesota United on July 31, Vancouver will return to Canada for training before three consecutive road matches to start August. The club has also moved the home match against Real Salt Lake from Saturday, August 28 to Sunday, August 29.
The Whitecaps have been out of market since the final 12 games of 2020 and the first 19 games of 2021.