The Vancouver Symphony Orchestra ("VSO") has announced that it will return to full audiences for a unique set of four concerts to open the 2021-22 concert season.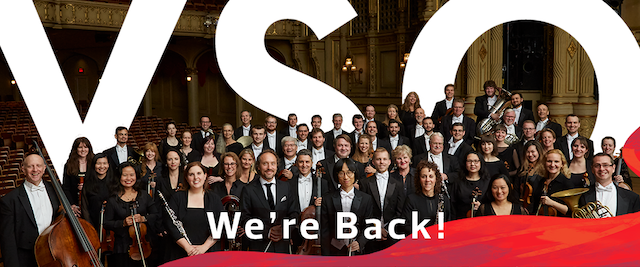 Vancouver Symphony Orchestra Welcomes Audiences
The performances start September 18, 2021 with We're Back!, a gala performance featuring Maestro Otto Tausk leading Tchaikovsky's 5th Symphony, a collection of audience favourites, and music from new voices. Then on September 24 and 25, the VSO performs Back To The Future In Concert, the perfect way to welcome audiences back to the experiences we love. On October 3, the beloved children's entertainer Fred Penner welcomes families back to the Orpheum with his message of love and positivity through music. The Cat Came Back – and so can you!
"We have all come through a most challenging and strange year," says VSO Music Director Otto Tausk. "The progress in BC on vaccination and reopening is fantastic. Now, we turn a page in our lives and return to the things we love most. For me and the musicians of the VSO, that means making music with you. We have a triumphant season planned that starts with a very special opening gala performance. We will play some favourite music by Beethoven, Berlioz, Massenet and Tchaikovsky, and feature two of the most creative voices in Canada today: Barbara Croall and Dinuk Wijeratne. This is one of those concerts that we will look back on twenty years from now as the start of a whole new chapter in our lives." 
In preparation for the reopening, the VSO is working closely with Vancouver Civic Theatres, the manager of the Orpheum Theatre, to prepare plans for safe operations in Phase 4 of BC's Reopening Plan. Guideline updates from the Provincial Health Office are being monitored closely and they will publish health & safety protocols for concert attendance in late August.
Tickets are now on sale for these three performances. VSO will continue their current policy of free returns and exchanges through to the end of December 2021. Should the province not move into Page 4 in September, the VSO will operate on a last-in-first-out policy to determine access to concerts. This means that the last purchasers of tickets, will be the first orders that they will have to change, should purchases exceed capacity limits.
To support no-touch ticketing, the VSO has launched a new mobile ticket App, now available in Apple and Android stores for free download (search Vancouver Symphony). The App will hold audience members' digital tickets going forward.
For the latest updates and to see some of VSO's digital performances from the past year, follow on Facebook.