At the end of summer, the Westin Bayshore will be home to The Lifted Festival featuring multi-platinum award-winning Country music superstar Dallas Smith along with Canada's brightest emerging talent. The festival welcomes the return of live performances in Vancouver and brings music and fans back together to lift the human spirit while experiencing live music from the comfort of their own private balcony.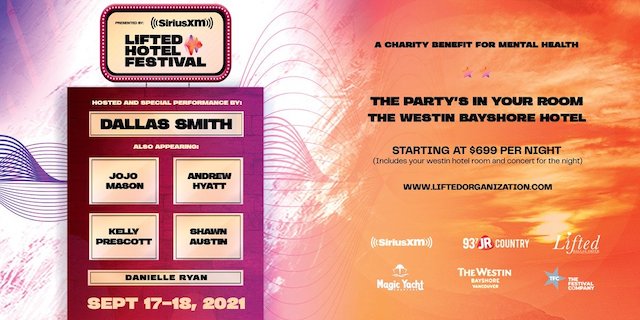 The Lifted Hotel Festival
When: September 17-18, 2021
Where: Westin Bayshore (1601 Bayshore Dr, Vancouver)
Tickets: On sale July 13, 2021 starting at $699/night (200 tickets available each night)

Purchase of a ticket includes one night stay at the Westin Bayshore for a max of 4 people per room and the full festival
Presented by SiriusXM Canada and Sponsored by 93.7 JR Country, the two-day hotel festival features an all-Canadian line up including Andrew Hyatt, Danielle Ryan, JoJo Mason, Kelly Prescott, and Shawn Austin, along with host and headliner Dallas Smith.
All proceeds from the Lifted Hotel Festival will go toward Lifted, a Dallas Smith Charitable Organization.
Lifted is a non-profit organization committed to ensuring that mental health services are accessible to all. Created Country music star Dallas Smith, Lifted strives to raise funds and gain community support towards destigmatizing mental health issues and championing local organizations to offer and provide assistance and resources to anyone in need.