The Polygon Gallery presents Interior Infinite, a celebration of radical togetherness and unique self-expression, bringing together an international group of artists whose works span photography, video, performance, and sculpture. Predominantly featuring portraiture, with an emphasis on self-portraiture, Interior Infinite focuses on costume and masquerade as strategies for revealing, rather than concealing, identities.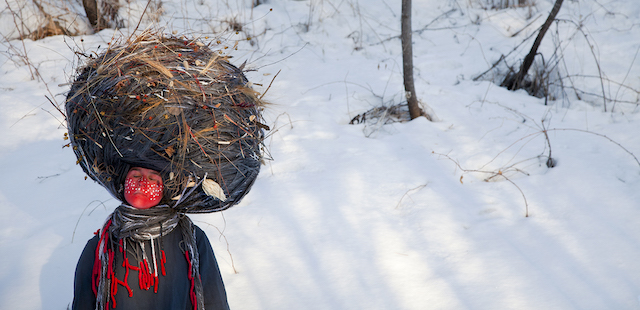 The Polygon Gallery's Interior Infinite
When: On view from June 25 to September 5, 2021

Gallery hours Wed, 10am–5pm; Thur, 10am–8pm; Fri–Sun, 10am–5pm

Where: 101 Carrie Cates Ct, North Vancouver
Admission: By donation, & no appointments are required to view Interior Infinite.
Across these works, disguise functions as an unmasking, as artists construct their own images through adornment in order to visually represent embodied experience, memory, and understanding.
Artists: Lacie Burning, Nick Cave, Dana Claxton, Martine Gutierrez, Kris Lemsalu, Meryl McMaster, Zanele Muholi, Aïda Muluneh, Zak Ové, Skeena Reece, Yinka Shonibare CBE, Sin Wai Kin, Carrie Mae Weems, Zadie Xa.
Marking the first feature exhibition curated by The Polygon's Assistant Curator Justin Ramsey, the group show explores carnivalesque expression as an act of resistance against the status quo.
"Whether through social media feeds or identity politics, we are constantly told that the 'self' is a true, immutable thing — this is a vast oversimplification," says Ramsey. "Every single person is a work in progress, with the potential and the courage to change and be changed. Interior Infinite speaks to the capacity for an individual to break free of normative limitations that are defined by a white supremacist, male chauvinistic, heteronormative lens. The exhibition draws attention to the fact that these so-called norms are far from the lived experiences of many people, and that 'the way things are' can change with social imagination. We have collectively imagined our present injustices into being; we can just as easily imagine a better, fairer, more inclusive way forward."
Interior Infinite takes its title from Russian philosopher Mikhail Bakhtin's Rabelais and His World, which analyzed the power of folk traditions such as Carnival and the grotesque as methods of subversion through humour and chaos. These expressions tap into the full depth and dynamism of an individual, and serve as acts of resistance to erasure and refusal to be contained. Ramsey weaves together folk traditions with contemporary notions of play, costume, and performance to reveal the dynamic, subversive, and endless ways individuals express race, gender, and identity.
Follow the Polygon on Facebook, Twitter, and Instagram for more information.
The Polygon has put in place preventative measures to reduce the spread of COVID-19. All exhibitions are planned in accordance with the Provincial Health Officer's most recent order, including capacity restrictions, social distancing, mandatory mask wearing, and sanitization of high-frequency touch points.