Talking Stick Festival, the largest Indigenous festival of its kind in North America, presents the virtual Summer Sojourn program. From June 1 – July 1, 2021 enjoy a bountiful month-long celebration of Indigenous performance, art, and so much more – with many free events!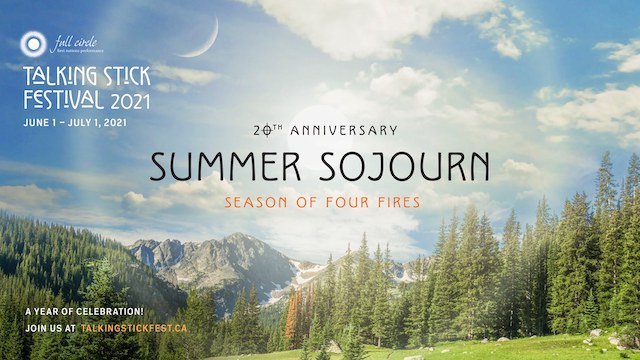 Talking Stick Festival Summer Sojourn
This online festival features concerts, dance performances, visual art, readings, theatrical presentations, and film, as well as some unique and unexpected virtual experiences. Summer Sojourn is the third presentation in their year-long 20th Anniversary program, The Season of Four Fires (following Winter Lodge and Spring Awakening).
Dreamspeakers International Indigenous Film Festival Film (May 31 — June 7)
Moonlodge Film (June 1 onwards)
Summer Solstice Indigenous Festival Multi-discipline (June 1 — 21)
Embodying Power and Place Storytelling (June 3 — Jul 1)
Indigenous Cities Storytelling (starting June 3)
Indigenous Music Summit Music (June 7 — 12)
Talking Truths: Following in Her Footsteps Discussion (June 18)
The Summer Solstice Indigenous Music Awards Music (June 12)
Dancing with our Ancestors Dance (June 15)
Tara Williamson and The Good Liars Music (June 18)
Mawessine's Gala Theatre / Music (June 21)
Opening Ceremony: All Together We Drum Music (June 25)
10-Year Celebration of Adäka Multi (June 26)
Nyēn nzhän: Sing your Song: An Indigenous Language and Song Celebration Music (June 27)
Land, Language and Song with The Love Soldiers Music (June 28)
Piano Burning Performance (August 8)
Co-presented with TD Vancouver International Jazz Festival:
Snotty Nose Rez Kids Music (June 25, paid ticketed event)
DJ Kookum & Sierra Tasi Baker Music (July 4)
Blue Moon Marquee Music (June 28, paid ticketed event)
Dalannah Gail Bowen Billie's Blues @ Frankie's Jazz Club Music (July 4, paid ticketed event)
Win a Summer Staycation
To celebrate Talking Stick Festival's 20th Anniversary, they're giving one lucky winner a Summer Staycation Prize Package. The grand prize (value over $750) includes:
Enter to win online here.
View the full festival program guide and follow the Talking Stick Festival on Facebook for more info and watch for free on Vimeo.