This summer, Surrey Civic Theatres presents Summer POP! (Performances in Outdoor Parks) with a variety of performances and activities for people to enjoy in the great outdoors.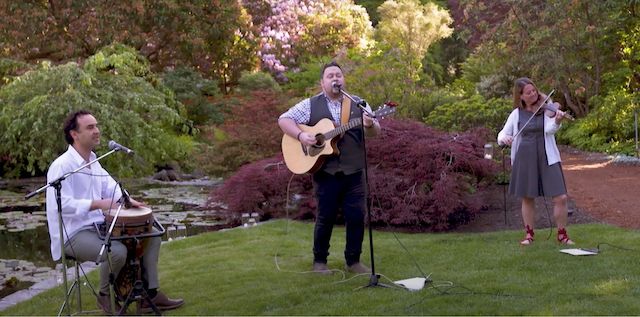 Summer POP! Outdoor Concerts in Surrey Parks
When: July 9 – September 12, 2021
Where: Various Surrey parks
Tickets: Click events below for ticket link, if required. Depending on COVID-19 protocols and restrictions, select programming may be moved online.
The Glades Garden (561 172 St) will host the Main Stage for Summer POP! There will be limited tickets available for each event (health orders permitting) and seating will be BYOBC (bring your own blanket or chair).
Friday, July 9, 7:00pm
Classical Music Summer Sampler
Surrey City Orchestra Quintet and BC Chinese Music Ensemble
Saturday, July 10, 7:00pm
The Pat Chessell Band Celtic Kitchen Party
Featuring opening act Reevay
July 23, 24, 25 at 4:00pm & 7:00pm
Juggle Me Not
Thursday, August 12, 13 & 14, 7:00pm; 3:00pm matinee on August 14th
The Silly Adventures of Robin Hood.
A production by The Merrie-Makers Equity Collective
Friday, August 27, 7:00pm; August 28, 4:00pm
Danceboy by Munish Sharma
Opening performance of Gramaphone by Zahida Rahemtulla
Friday, September 10, 6:30pm 
Whalley, What?? featuring Emergency!! 
Featuring poetry by Enable Arts Society Poetry and an opening dance by Clala Dance
Saturday, September 11 at 6:30pm
The Quarantettes featuring opening act,Vostok
POP! Summer Strolls
Enjoy a POP! Summer Stroll through Bear Creek Park (13750 88 Ave) or Darts Hill Garden (6th Avenue and 170th Street) with the following ticketed events:
July 16, 7:00pm; July 17,  3:00pm & 7:00pm; July 18, 3:00pm
POP! Summer Stroll at Bear Creek Park
Featuring Devon More's One-Woman Symphonies, Dreamtime Safari, Re-Enactors, Piano in the Park with Linda Szentes, & The Quarantettes.
August 6, 7:00pm; August 7,  3:00pm & 7:00pm; August 8, 3:00pm
POP! Summer Stroll at Darts Hill Park
Featuring performance The Great Escape Artist, Devon More's One-Woman Symphonies, Vostok, Swipe Stage Right by Alyssa Hirose (an Or Theatre Festival production), and Dangle-o-rama by Firebelly.
August 20 at 6:00pm; August 21, 1:00pm & 6pm; August 22, 1:00pm
Bear Creek Gardens
The Neverland Night Circus. A Geekenders Production
For each of the performance times for this show, there will be seven separate audience groups. These groups of up to 12 people will be in staggered increments of 15 minutes. The performance is 65 minutes long.
August 20, 21 & 22 at 10:00 am & 3:30pm
Bear Creek Park
Moving, Resting, Nesting – A Story-Walk
An outdoor story-walk designed for children ages 2 to 7 and their adults.
September 2 & 3, 6:30pm; September 4 & 5 3:00pm & 6:30pm
Conspiracy Now
An interactive documentary style theatre performance.
In Green Timbers (14600 Block of 100 Ave), Hawthorne Park (10513 144 St) and Bear Creek Park you'll also find a series of self-directed activities. These make use of QR codes in public parks, and participants experience the activity at their own pace. There are three experiences to enjoy throughout the season.
Follow Surrey Civic Theatres on Facebook for updates.