The 11th Indian Summer Festival ("ISF2021") is on now until July 17th with most events available to stream on digital channels, and premieres at 7:00pm every Thursday and Saturday (except July 1st).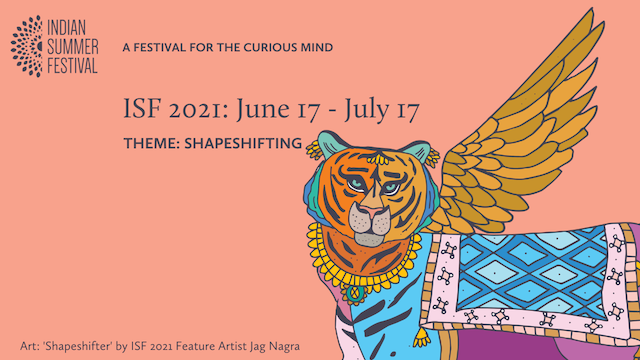 Indian Summer Festival 2021
This year, the festival offers live digital event premieres (where audiences can interact through chat functionality) with an on-demand digital platform that makes it possible for events to be viewable until the end of the festival. The festival sees a stunning global cast of talent from beatboxers to tabla maestros, novelists and actors.
A Digital Pass to access all online events at the festival is $50. Individual tickets to all events are available on a sliding scale of no fee, $10 or $20.
"For this 11th year for the 2021 Indian Summer Festival, we thought that our theme should be "Shapeshifting," says Sirish Rao, Indian Summer Festival's Artistic Director. "It's something that we've all had to do in the last year, and shapeshifters have existed in almost every culture." The festival has elements of music, performing arts and literary discussions . "So we can experience the true transformative power of the arts," adds Rao. "The arts give us levity, solace and help us make sense of our predicament and imagine our futures."
Event Lineup
Saturday, June 19, 2021, 7:00pm (available to stream until July 17)
Anoushka Shankar – The Musical Journey of a Shapeshifter
Wednesday, June 23 – Saturday, July 3, 2021
VOX Infold (Lobe Spatial Sound Studio, 713 East Hastings, Vancouver)
This special project is a rare chance to experience the music of powerhouse vocal ensemble Vox Infold in the form of an immersive sound experience. Presented at the groundbreaking Lobe Spatial Sound Studio and using Lobe's 4DSOUND system, this is music not just as sound but as a profound experience of space and dimension. Consider it a healing sound bath. Advance booking required and experienced as an individual or in a 'household bubble.' With Dawn Pemberton, Inuksuk Mckay, Russell Wallace, Tiffany Ayalik, Tiffany Moses, Shamik Bilgi and Ruby Singh.
Thursday, June 24, 2021, 7:00pm
Flames and Portals
Literary discussion with Kamila Shamsie and Mohsin Hamid, Moderated by Sirish Rao.
Saturday, June 26, 2021, 7:00pm
Zakir Hussain – Alone Together – Zakir Hussain, ft. Mickey Hart and Rakesh Chaurasia
An intimate evening with the tabla maestro, this online concert features Zakir Hussain performing solo and joined virtually by special guests collaborating in real-time from different parts of the world – Grateful Dead legend Mickey Hart and bansuri virtuoso Rakesh Chaurasia. The concert is preceded by a special interview with the maestro.
July 3-17, 2021
Walking Tour of Punjabi Market
Guests are invited to take a self-guided walking tour of the Punjabi Market using their own mobile device. The audio tour, narrated by artists, shop owners and community members, will give an insight into the past, present and vibrant future of this significant Vancouver neighbourhood.
Punjabi Market Premium Gift Box
Specially curated by artists Minahil Bukhari and Mustaali Raj for ISF2021, the Punjabi Market Premium Gift Box features gorgeous items hand-picked from Vancouver's vibrant Punjabi Market. At a cost of $125, including taxes and shipping, the gift box will be delivered to your door via Canada Post to Canadian addresses only.
Thursday, July 8, 2021, 7:00pm
Ancient Futures – Musical Inheritances – Ruby Singh, Khari Wendell McClelland and PIQSIQ
Saturday, July 10, 2021, 7:00pm
Knives and Sugar – Avni Doshi with Souvankham Thammavongsa, moderated by Anna Ling Kaye
Thursday, July 15, 2021, 7:00pm
Transcendence by Anosh Irani ft. Lois Anderson, Munish Sharma and Laara Sadiq
Saturday, July 17, 2021, 7:00pm
Indian Summer Festival Finale
A Night at the Orpheum- musical performance by Naadaleela Ensemble and Mohamed Assani & Friends
ISF2021 edition ends with a grand, one-night-only finale performed at the historic Orpheum Theatre and delivered digitally to your living room. This double-bill features internationally recognized musicians and features the worldwide premiere of two new musical works.
Find the full program online and follow the Indian Summer Festival on Facebook for more info.