Vancouver Bird Week is now Vancouver Bird Celebration! Coordinated by Stanley Park Ecology Society, this week-long, regional event features bird walks, workshops, talks and other activities led by bird enthusiasts across the region. No matter your birding experience level there is sure to be something for you to enjoy.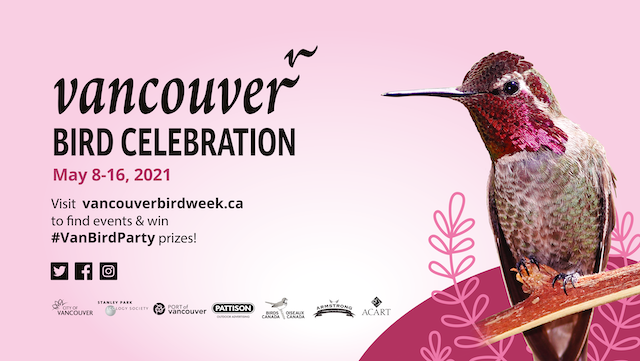 Vancouver Bird Celebration
To celebrate the event's 10th anniversary, they have moved to a new name to enable everyone to celebrate birds beyond one week and move toward a countrywide event (alongside Toronto Bird Celebration).
When: May 8-16, 2021
Where: Online and outdoors
The event was inspired by World Migratory Bird Day, a United Nations-sponsored initiative that recognizes the importance of birds as key indicators of our environment's health. During Vancouver Bird Celebration, there will be bird-related workshops, talks, exhibitions, and lectures across the Lower Mainland. Most events are free.
A few highlights:
You can also enter the Celebirdies Contest, with a chance to win a bundle of prizes including online course access, festival passes, books, and more. Look for "celebirdies": birds in your neighbourhood, yard, or garden. Enjoy watching your bird superstar. Then, leave a comment one of the contest Instagram posts mentioning which bird you found and where.  You can also share a photo of your feathered friend on your Instagram tagging @VanBirdCelebration, @StanleyParkEcology, and #VanBirdParty to be entered to win as well.
From bird nerd to bird curious, from wise old owl to adventurous tot, there is an event for everyone during Vancouver Bird Celebration.