The Anvil Centre Theatre is set to host The May Long Festival, an on-demand, online festival featuring New Westminster-based or affiliated performers. This festival features four unique performances from a diverse group of talented local creators. Each will share their talents through the lens of our times and our community with stories for us here and now.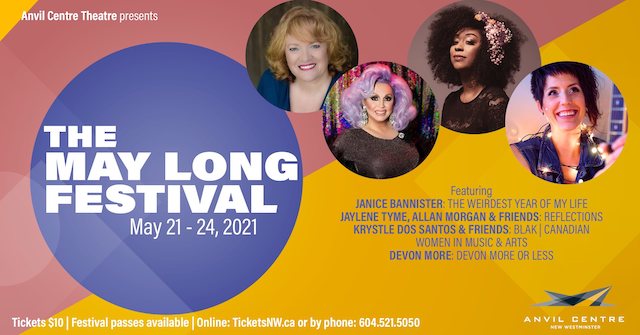 The May Long Festival
When: May 21-24, 2021
Where: Online
Tickets: Available now for $10 per device for each show. Festival passes $30 for all four shows.
Each show is filmed entirely at the Anvil Centre Theatre with its newly installed recording equipment. It is offered for on demand viewing in the safety and comfort of your home. With the breadth and depth of the performances available, there is certainly something for everyone.
Show Lineup
Janice Bannister: The Weirdest Year of My Life
Janice Bannister is excited to bring her "Weirdest Year" show to the stage. Her one-woman show includes stand-up, storytelling, laughter wellness, and a heart to heart chat. Janice shares her life experiences from Kootenay Girl with a Belgium warbride Mom, becoming a psychiatric nurse, single mom challenges, to the excitement of being a Boomer grandma. She welcomes you to laugh at her adventures, because laughter and joy are the best ways to get through these weird times.
Krystle Dos Santos and Friends: BLAK | Canadian Women in Music & Arts
Krystle Dos Santos takes the audience on a musical journey celebrating notable Black Canadian women in music. She shares historically important stories about the underground railroad, civil rights movement and key events in black history while weaving in iconic songs from the eras in which these women lived and performed. Featuring artists like Measha Brueggergosman; Canada's First Lady of the Blues Salome Bey; Vancouver's First Lady of Jazz Eleanor Collins and many more. With special guest performers Dawn Pemberton and Marisa Gold.
Devon More: Devon More or Less
Devon says "Live art is too dangerous, but how about TV dinner – and a show?" Devon More was a regular performer at the Heritage Grill for years. She is mixing music and insightful musings, as usual and serving up select favourite earworms from her one-woman cabarets (Berlin Waltz, Flute Loops, Hits Like a Girl) – along with a brand new surprise or two… Devon more or less just wants you to know that New West IS still the best, and she misses you.
Jaylene Tyme, Allan Morgan & Friends: Reflections Iconic Vancouver drag queen Jaylene Tyme and legendary actor Allan Morgan have created a conversational performance filled with laughter, song, tears and most of all…heart. Featuring stories from the Massey Theatre's Gay Seniors Storytelling group, the program reflects on their pandemic experiences and offers some fierce drag that you don't want to miss.
Follow Anvil Centre on Facebook for more news about this festival and upcoming digital events.