The TD Vancouver International Jazz Festival celebrates its 35th edition this summer from Friday, June 25 to Sunday, July 4. After cancelling the 2020 festival due to COVID-19 uncertainty, the Coastal Jazz & Blues Society is pleased to present a modified 2021 Festival with a program of over 100 virtual events – all in accordance with the Provincial Health Office's guidelines. Plus, there will be free performances will be announced in May!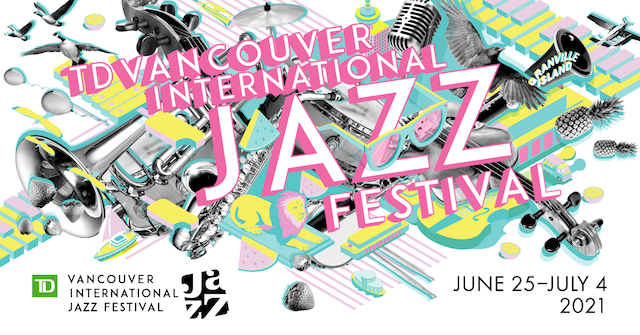 TD Vancouver International Jazz Festival's Virtual Program
The 2021 TD Vancouver International Jazz Festival includes performances by British Columbia's plethora of talented artists; streams from New York, Chicago, Philadelphia, Amsterdam, and Paris; free online workshops; club performances; and a continued partnership with North Shore Jazz. All streams will be available until midnight on July 6, 2021.
Streaming Series
International Streaming Series
The series kicks off June 25th with a performance from Chicago by percussionists Hamid Drake and Michael Zerang. The following nights, travel (virtually) to New York, with a tribute to Bud Powell (Bouncin' with Bud) featuring Helen Sung, Steve Smith, and Lonnie Plaxico, as well as a solo performance by pianist Fred Hersch, respectively. On June 30th, John Beasley's Grammy-winning MONK'estra explores the music of Thelonious Monk and original compositions. View the full International Streaming Series lineup here.
Innovation Series at Ironworks
On June 25th begin the series with a performance by a quartet led by violinist Josh Zubot. The Watermill Project, combining Korean traditional music and jazz into a harmonious whole, led by vocalist Sara Kim is streaming June 27th. July 3rd sees a rare appearance by Talking Pictures, led by guitarist Ron Samworth. he final performance from the Innovation Series at Ironworks features two duos: drummer Kenton Loewen and trumpeter JP Carter, plus Not for Proper, Loewen's duo with pianist Lisa Cay Miller. View the full Innovation Series at Ironworks lineup here.
Pyatt Hall Series & Frankie's Jazz Club
The Pyatt Hall Series, streaming nightly, opens June 25th will feature sax-master and local jazz impresario Cory Weeds and his Quartet in a tribute to Harold Land. three of Vancouver's most sought-after players join together as Triology (with Jodi Proznick, Miles Black, and Bill Coon) on June 30th. For the final night of the series on July 4th, catch charming vocalist Andrea Superstein. View the full Pyatt Hall Series & Frankie's Jazz Club lineup.
Performance Works Series
Opening June 25th with critical darlings and audience favourites Snotty Nose Rez Kids. June 28th will have Blue Moon Marquee's unique combo of Americana, swing, and gut-bucket blues put a smile on your face. On July 1st, the Peggy Lee Band will explore the elegant compositions of one of Vancouver's musical treasures, cellist Peggy Lee. July 4th closes the Performance Works Series with jazz-pop chanteuse Jill Barber exploring repertoire in French from her latest album. View the full Performance Works Series lineup here.
Ticketing information is as follows:
Streaming packages ($50+ tax per series) with single stream tickets ($11+ tax per stream) on sale May 3, 2021 at 10:00am
The s

treaming package for

all of the ticketed program

s

at this year's Festival is $175+ tax
Plans are also afoot for limited in-person attendance, should health orders allow for small gatherings. For more information and the latest updates, follow Coastal Jazz on Facebook.