Registration is open for summer EcoCamps in Stanley Park, hosted by the Stanley Park Ecology Society ("SPES"). There is still space available in weeks 1,2,7 and 8 right now, with waitlist spots available for the others. Here's the full rundown of each camp week, and scroll down for info about the online (at home) Critter Club!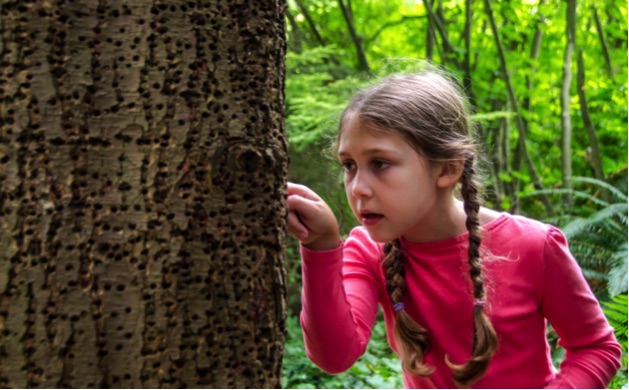 Summer EcoCamps in Stanley Park
Camps for kids ages 7 to 11 run weekly, rain or shine, through July & August, 9:00am to 4:00pm. SPES will strictly adhere to social distancing in all activities while still delivering a fun and educational camp for your child. See more on COVID-19 guidelines here.
Weekly Themes
July 5 – July 9: Flying Wonders: Is your child curious about the animals that fly overhead? Do they wonder about bird calls, bat wings and what makes a flying squirrel fly? If so, the Flying Wonders camp is for them! This week, our campers will learn about the amazing ducks, hawks, owls, and other flying creatures that call Stanley Park home, and will have a hoot doing it.
July 12 - July 16: Art in the Park: Nature is beautiful, inspiring, and full of details, from towering Douglas-fir trees to tiny colourful bugs. Tap into nature's design and your own creativity for a week of inspiring art projects and activities.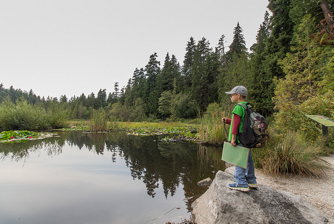 July 19 - July 23: Animal Detectives: How can you tell what an owl has eaten? Why are salmon so important to the forest? How do animals survive in the harsh intertidal zone on the beach? Sharpen your animal detective skills and learn how to use tools to find the answers to some of the mysteries of the forest and ocean! This week campers explore the habits and habitats of Stanley Park's birds, mammals, amphibians and more.
July 26 - July 30: Wild about Water: What do salmon, beavers, eagles, and cattails all have in common? Water! They are all part of our aquatic landscape. In this action-packed week, campers explore Stanley Park's beaches, creeks, and other wetland environments, while contributing to citizen science. Cool off in the heat of summer by exploring the marine and freshwater ecosystems in Stanley Park.
August 3 – August 6: No EcoCamp
August 9 – August 13:  Stanley Park Survivor: This fun-filled week is full of exciting activities designed to get campers thinking about the challenges of outdoor survival, both for themselves and for the creatures that call Stanley Park home. This week kids will learn about edible plants, compass navigation, and shelter building. Campers will observe behavioural adaptations and survival strategies of the creatures in Stanley Park! If your child likes spending time outdoors this is the week for them.
August 16 – August 20: EcoLeader's Adventure: Calling all kids to come connect with nature and make a difference. Join SPES for a fun-filled week exploring the diversity of Stanley Park and taking action through conservation and citizen science. Children will develop their leadership and team work skills and become true stewards of the Park. From exploring wetlands, to rainforest, to the intertidal zone, sign-up for an adventure your child won't forget.
August 23 – August 27: Forest Explorers: Which plants are blooming? Who has migrated back? Where are the frogs? What's making that sound? The forest—and its beaches—are a wondrous place with many exciting mysteries just waiting to be explored.
August 30 – September 03: Flying Wonders
Registration and More
Registration: The EcoCamp fee is $300 for non-members, $260 for SPES members. Family memberships are available upon registration for $40 and offer discounts on year-round programming.
A detailed parent information package, along with camp policies and procedures, will be sent to you via email once you've secured a spot in camp and registered your child(ren). 
Due to the public health risk of COVID-19, this summer, SPES will be running a socially distanced camp entirely outdoors. Current capacity will be limited to 10 campers per week and campers will only be allowed to sign up for a maximum of 3 weeks. There is possibility that additional spots may become available closer to camp or campers will be allowed to book more than 3 weeks.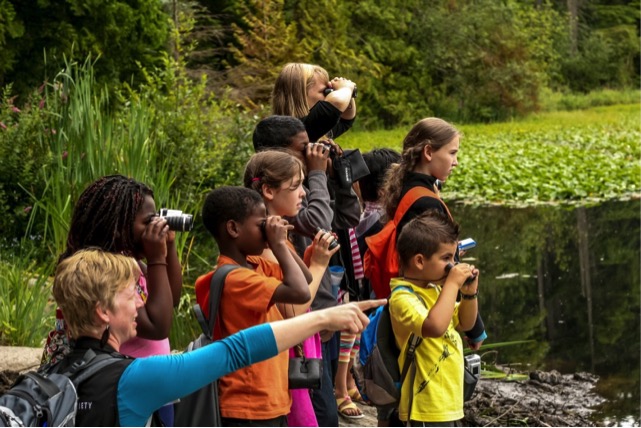 At Home Critter Club
Starting June 2, 2021, SPES educators are offering an interactive online club for children who are passionate about animals, want to learn more about them, and want to help protect them.  The club will explore wildlife in Stanley Park and around us through art, activities, short presentations, Q&A, and more. This is open to children who attended the first series or new participants.
Critter Club meets once a week, over four weeks, 10:30am to 12:00pm for home-schooled children. Clubbers will be offered an optional exciting activity to do on their own over the next week. Activities will be based around sustainable living and learning how to protect our precious wildlife. Participants can bond with each other other while sharing their individual activities during the break-out session the following week.
For more information about Stanley Park EcoCamps or the at home Critter Club, follow Stanley Park Ecology Society on Facebook and Instagram.