Just in time for Cinco de Mayo, SPUD Vancouver is celebrating an awesome local company's ingredients which are available in their grocery delivery lineup. Solecito Foods is a family-owned and operated company based in North Vancouver. Their goal is to share the traditional Mexican flavours and recipes with the community, which to our family means the flavours of home.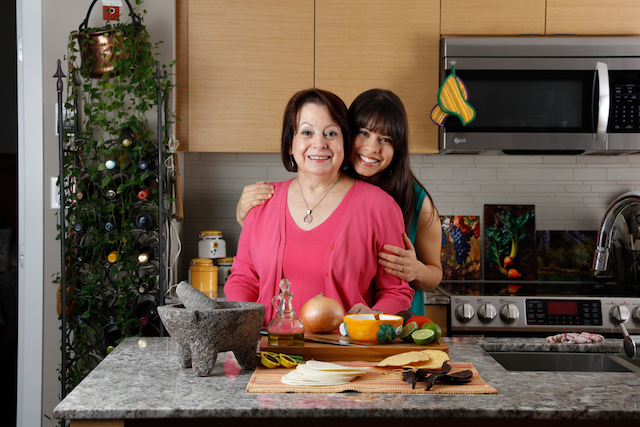 SPUD Delivers the Flavours of Mexico with Solecito Foods
SPUD is Metro Vancouver and the Fraser Valley's local, sustainable, organic grocery delivery service. Andrea and her parents have been so thankful to be able to start selling online with SPUD through the pandemic, it has meant a lot for the survival of their family business.
She and her mom cook together and she runs the day to day operations with her dad on the North Shore. For Cinco de Mayo, they're sharing their Solecito Chicken Mole Enchiladas recipe, with ingredients available for delivery straight to your door from SPUD.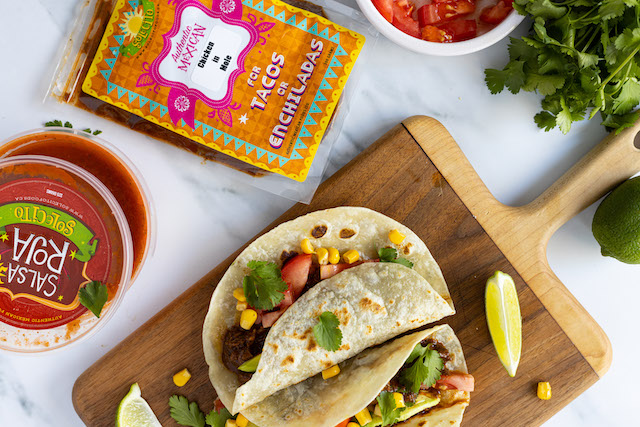 Solecito Chicken Mole Enchiladas
Ingredients
1 package of Solecito Chicken in Mole Filling for Tacos & Enchiladas
Sunflower oil
6 soft corn tortillas
Shredded cheese
Optional toppings: avocado, onion, crema fresca, fresh salsa
Instructions
Preheat oven to 350 degrees. In a small saucepan, heat mole on medium-low. When it boils, turn the heat down and simmer.
Meanwhile, in a large pan pour vegetable or sunflower oil to about 1/2 cm in height and heat on medium setting. Once the oil is hot, cook tortillas (one at a time) just enough to soften them – about 3-5 seconds each.
Using a spoon, scoop chicken out of the mole and divide it evenly among the tortillas. Roll each one up and arrange them snugly in one layer in a large baking dish, seam side down. Drizzle the warm mole on top. Top with shredded cheese.
Cover with a lid or foil and bake for approx. 20 minutes or until the cheese starts to melt. Uncover and broil for 2 – 3 minutes, until the cheese is golden brown.
Remove from heat and scoop 1 – 2 enchiladas per plate. Top with crema fresca, onion, avocado, fresh salsa or your favourite toppings and enjoy!
I'm personally very excited to learn about these great local products, which I can order and prepare with John who really misses the flavours of his Mexican heritage. While he can't get mom's home-made tacos here, this will be the next best thing!
For Miss604 Readers/Followers
Not a SPUD customer? Check out with promo code MISS604 and you'll get $15 off your first order when you spend $50 or more. Already a SPUD customer? Use the same code for $5 off your next order over $50. Valid for all locations, May, 2021.