The Easter Seals 50/50 raffle is on now, and there are just a few days left to get your tickets! Easter Seals believes everyone should get to go to camp, so with every ticket purchased, you're helping children and adults with disabilities experience fully accessible camps where they learn life-changing skills & gain life-long friendships.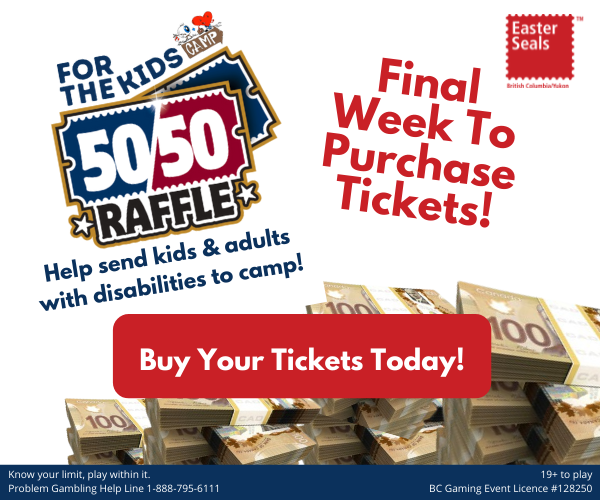 Easter Seals 50/50
50/50 Sales Deadline: Midnight, Monday, May 31, 2021
50/50 Draw: Tuesday, June 1, 2021 at 12:00pm Pacific
Tickets: 3-Ticket Pack for $10; 15-Ticket Pack for $20; 35-Ticket Pack for $40; 100-Ticket Pack for $100.
"Easter Seals Camps provide both a lot of fun and skills to campers with disabilities," says Lisa Beck, CEO and President of Easter Seals BC/Yukon. "Our camps are fully accessible and provide a critical opportunity to address isolation and socialization, especially following this year's pandemic when so many programs and supportive services shut down."
With every 50/50 ticket purchased, funding will ensure campers receive the onsite support they need, receive healthy meals and snacks, and have access, equipment and supplies for a full camp program whether it's in person or virtually at home.
This year Easter Seals is offering a number of different camp options for persons with disabilities from ages 6 to 49 years: Outdoor Adventure Day Camps at Camp Winfield in the Okanagan, City Adventure Day Camps in Kelowna, Victoria & Vancouver, seven weeks of Online Virtual Camps and even a Family Weekend Camp at all three of their camp locations – Squamish, Lake Shawnigan and Lake Country.
Easter Seals BC & Yukon has been an established leader in supporting the disabled community since 1952. Over the years, through the BC Lions Society for Children with Disabilities, Easter Seals has provided valued programs and services to thousands of families and children. Their work strives to build self-esteem, self-confidence and a sense of independence for the children, youth and adults they work with.
The more tickets sold, the greater the jackpot, and the greater the support for Easter Seals – it's a true win/win!
Know your limit, play within it. Chances are 1 in 59,000 (total tickets for sale) to win a prize. Actual odds depend on number of tickets sold.