When someone says "BC Wine" the Okanagan is probably the first place you think of, but did you know that British Columbia's Wine Regions span from the Pacific to the Rockies, and consist of nine diverse areas? Wine Growers British Columbia has just made it super easy to distinguish these areas with a series of high-resolution topographic maps developed with consulting soil scientist Scott Smith and Linda Decker of Geo Earth Mapping.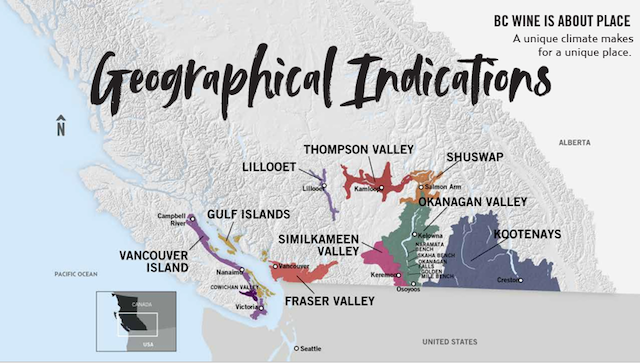 British Columbia's Wine Regions
For the purposes of wine labelling, these regions are referred to as Geographical Indications (GIs) and divisions of these as sub-Geographical Indications (sub-GIs). These are formal designations of the place of origin of the fruit that goes into BC VQA Wine.
Lillooet
Similkameen
Fraser Valley
Okanagan Valley
Thompson Valley
Gulf Islands
Shuswap
Vancouver Island
Kootenays
"The topographic cartography combines simple design incorporating the Wines of British Columbia new brand elements, with the GI and sub-GI boundaries as regulated by the British Columbia Wine Authority, to construct a detailed look at B.C.'s diverse winegrowing regions," says Laura Kittmer, Communications Director, Wine Growers British Columbia.
"The maps depict the extent of the GIs which are largely based on watershed boundaries or portions of watersheds. The sub-GI boundaries are based on landforms which are enduring landscape features that do not change over time," says Scott Smith, Eterrna Consulting, Penticton.
British Columbia's wine regions are on the edge of the wine world, at the highest latitudes where grape growing is possible. Long hours of daylight, baking hot days, cool nights and deliberately moderate yields create intense, bright fruit flavours beautifully balanced against vibrant acidity.
"British Columbia is gifted with some of the most extreme and unique grape growing conditions on the planet, that are not easily defined. From the coast to the vast and rugged interior of the province, these maps were developed to be used by industry as an essential tool in telling our story. Whether you are in the wine business, interested in learning about wine, or visiting a region, these maps are an important way in understanding BC wines and the scope of our diverse terroir," says Kittmer. 
British Columbia continues to build its reputation for excellent winemaking and exceptional wines, further solidifying its place among the best in the world. The release of these maps will help educate the trade, media and consumers about the unique sites and growing regions that make BC such a special place for growing grapes and making wine.