Strathcona's galleries are coming together to bring a diverse selection of contemporary art from Indigenous and Canadian artists to the streets through five billboards along East Hastings. Art Walk Strathcona is a self-guided experience that invites people to take a walk, discover the public billboard images, and enjoy a change of perspective.
Art Walk Strathcona
May 21 to June 14 find the public art billboards for a chance to win an exclusive Art Walk Strathcona experience, including your very own art piece.  
Monte Clark – 53 Dunlevy
Howard495 – 495 Railway
Mónica Reyes Gallery – 602 E Hastings
Fazakas Gallery – 688 E Hastings
Catriona Jeffries – 950 E Cordova
Wil Aballe Art Projects – 1129 E Hastings
"After a year of being stuck at home, we're all starved for fresh ideas and inspiration. We can't think of a better antidote to the bleak mundanity of pandemic life than the Art Walk Strathcona experience," says Mónica Reyes, Gallery owner and arts supporter. "Art has the power to bring joy, provoke questions, and spark conversations. By bringing art to billboards we can extend the public's access to the power of art while sharing local artist's work with audiences who might not normally engage with it". 
When you discover the featured artworks on billboards along East Hastings, snap a picture, share to your Instagram account, use #ArtWalkStrathcona and tag @madeinstrathcona to be entered to win an exclusive Art Walk Strathcona experience prize. The winner will have the opportunity to choose an art piece from a selection from Mónica Reyes Gallery to kick-off your own art collection, experience a private tour for you and friend with the gallery owner at Fazakas Gallery and Howard495, as well as win $200 in gift cards to local cafes, restaurants, and breweries to start and cap off a day of exploring art in Strathcona. Each billboard can be used as a photo entry, up to five entries per person. The contest runs May 21 to June 14, 2021.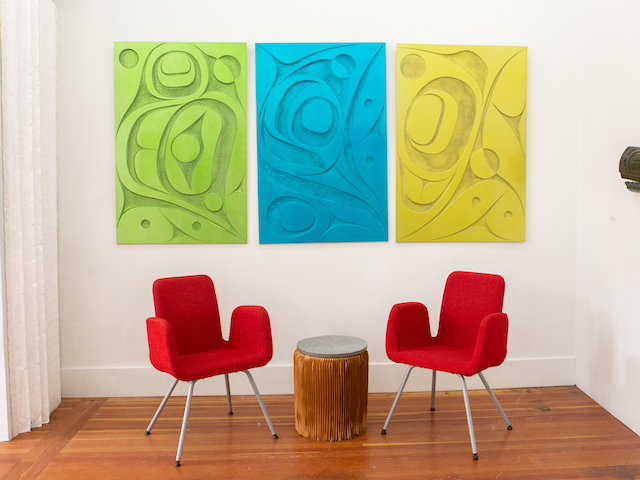 It's no secret that Strathcona is home to a flourishing arts community. Strathcona has also become a hub for some of the most notable contemporary art galleries in Vancouver and across the country. You'll find galleries focused on lifting up local emerging artists, Indigenous artists, and artists who are renowned nationally and internationally. The diversity of art disciplines, exhibition approaches, and unique spaces offer something for everyone. Follow what intrigues you and explore the associated exhibitions taking place throughout May and June in Strathcona's gallery district.