The Vancouver Symphony Orchestra announced that the second annual Day of Music will take place May 15, 2021. This free event celebrates music and musicians from across the Province of BC. Over one hundred performances will be released as livestreams and recordings in the virtual Day of Music hub. Pop-up performances are also being planned around the province, health orders permitting.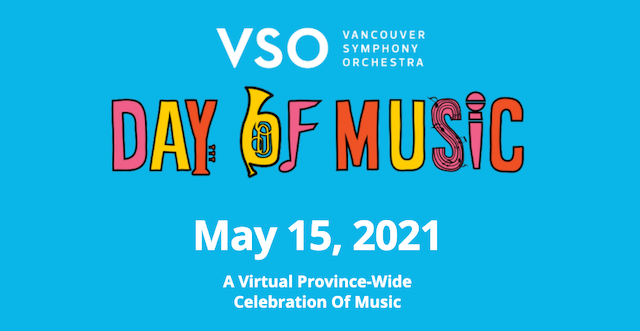 Vancouver Symphony Orchestra's Second Annual Day of Music
"Day of Music 2021 is a chance for British Columbians to come together in a massive celebration of music and its power to connect us. This has been a challenging year on so many fronts, and in particular for musicians. We witnessed firsthand how much stress our own VSO musicians have experienced. […] We plan to reignite the sheer joy of music and performance as our community gets ready to come out of this long hibernation." – Angela Elster, President & CEO of the VSO and VSO School of Music
Call for Participants
The VSO invites amateur and professional musicians and ensembles from across the province to join in this celebration of music via a video recording, live stream or pop-up performance in their community. A limited number of honorariums ($400 for individuals, $1,000 for ensembles) will be awarded to select participants. While all musicians and groups are invited to submit proposals to participate, preference will be given groups related to classical, jazz, chamber, world music, indigenous and wind band genres.
Proposals to participate can be submitted at DayOfMusic.ca. Deadline to submit proposals is April 15th, 2021.
Day of Music is the VSO's annual free community celebration of music and musicians. The first celebration took place in 2019 and welcomed over 14,000 people to 100 free performances in celebration of the VSO's 100th Anniversary.