Upintheair Theatre Company will present the 2021 rEvolver Festival over three weeks this summer, with 12 artist presentations expressly designed to showcase new work in development. Aimed at tapping local audiences into the creative process, the festival is made up of an eclectic combination of digital and audio experiences, conversations and workshops.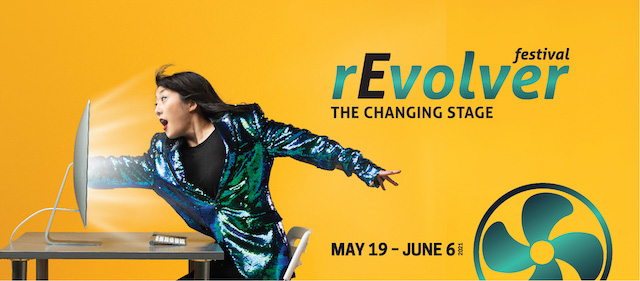 2021 rEvolver Festival
When: Wednesday, May 19 to Sunday, June 6, 2021
Where: Online
Tickets: Available online soon. All festival presentations are by donation.
rEvolver festival's presentations will provide an artistic platform for reflection. The group of artists has been provided pre-festival access to studio time with the opportunity to deep dive into creation. During the festival, audiences are invited into a discussion of what the creative and performing arts might look like in the post-COVID world.
Project and Artist Information
Presentations include community workshops, an interactive website, play readings, role playing games, and a visual EP to investigate themes such as activism, climate change, disability, fortune-telling and media.
Anna Saves the Marsh, by Adam Schwartz*
Catfish, by Simran Gill, Jess Amy Shead
Collider, Single Thread Theatre Company, by Shelby Bushell, Chloe Payne, Liam Karry*
Hwatu, by Romi Kim / Skim, Jaewoo Kang / James Q Parker, Gray Park / Count Cupid
messier objects EP (working title), by Stéphanie Cyr
Multi-pocalypse Livestream, Tricksters Media, by Raven John, Deborah Courchene, Aidan Hammond
Necessary Dream, by Jackson Tegu
Not So Stupid, by June Fukumura, Daniela Atiencia, Sue Jutson
Shadow Sign for Bedroom Protest: What I Dare To Do In The Dark, Art Action Earwig, by Minah Lee, Wryly Andherson
Szepty/Whispers: Dialogue, concept by Veronique West
The Frontliners, by Zahida Rahemtulla
Real Talks @ rEvolver Festival, in partnership with Gateway Theatre
*All artists are Vancouver-based with the exception of Adam Schwartz (Winnipeg) and Single Thread Company (Kingston/Vancouver).
Co-artistic producers Daniel Martin and David Mott and Resident Curators Davey Caldedron and Kayleigh Sandomirsky curated the lineup to provide an output for emerging and mid-careers artists to focus on transition and building capacity, flexibility and resilience — looking ahead to what artistic presentations could be like in our post-pandemic existence. 
For more information follow Up in the Air Theatre on Facebook.