Jessie Award-winning company Realwheels Theatre presents Wheel Voices: Tune In!, a mashup of original scenes, rap, spoken word, and choral pieces presented online in May.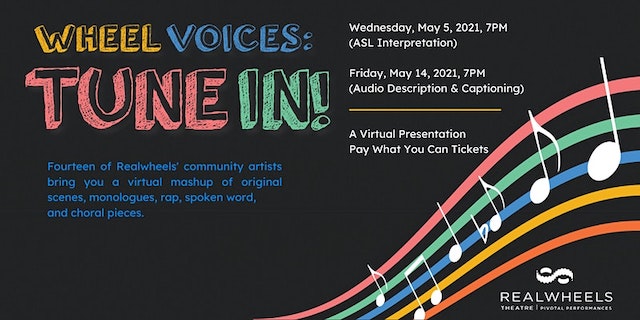 Wheel Voices: Tune In!
When: May 5 & 14, 2021

ASL Interpretation May 5; Audio Description May 14; Captioning May 14

Where: Online
Tickets: Pay what you can, starting at $5 book online
Featuring a cast of fourteen Vancouver-based community artists, this virtual performance weaves personal stories rooted in the disability experience with passionate anthemic scenes, and one hilarious comedic take on revenge fantasy.
Music is a common language; it dissolves barriers and strengthens bonds between people from many walks of life. Realwheels performers will come together in an online collaboration, demonstrating a range of talents across genres. Wheel Voices: Tune In! is edgy, poignant, funny as hell, and full of heart.
Originally scheduled for production in May 2020, but postponed due to the pandemic, get ready to finally enjoy the much-anticipated culmination of online rehearsals, innovation, and tenacity. Each performer brings their originality, heart, and spark to the "stage" – the process supported by a diverse artistic team including Shawn Macdonald (Facilitator), Caitriona Murphy (Musical Director), Kimit Sekhon (Video & Sound Designer), and Rena Cohen (Artistic Director).
Performers include: Amy Amantea, Jochen (Joe) Biertumpel, James Brown, Emily Grace Brook, Amelia Cooper, Kristy Kassie, Greg "Spokes" Labine, Sharon Liu, Laura Mackenrot, Caspar Ryan, Kristina Shelden, Dave Symington, Andrew Vallance, Brandon Wilkinson.
Realwheels creates and produces performances that deepen understanding of the disability experience. We envision full inclusion and integration of disability both on and off Canadian stages; a barrier-free diverse performing arts world that reflects the real world and all of its people.