Jarr offers package-free and low-waste groceries, personal care and household supplies, delivered to your door in returnable containers. Jarr (with two r's for Reduce and Reuse) was founded in July 2020 by Emily Sproule, and operates in North Vancouver, Vancouver, Burnaby, New Westminster and Bowen Island. Their mission is to simplify zero waste living—together.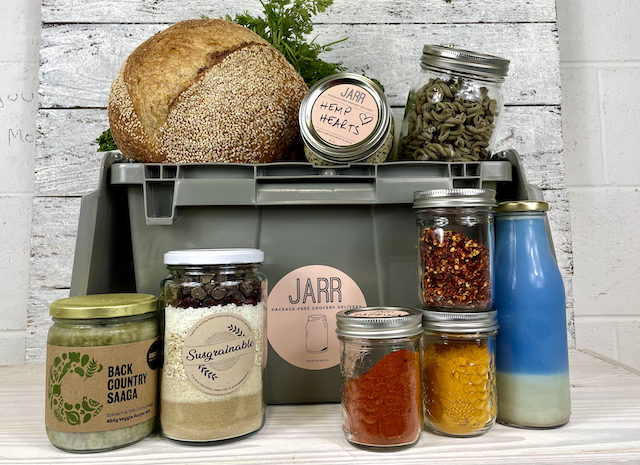 Jarr Grocery Delivery Service
Jarr's products are locally sourced, organic and vegetarian. They use standard glass mason jars made for canning. Because of the intrinsic value they hold, people are less likely to throw them out, or send them into recycling streams, which can also be problematic. Jarr delivery drivers use MODO cars to keep their carbon footprint down and have just expanded to bike delivery as well.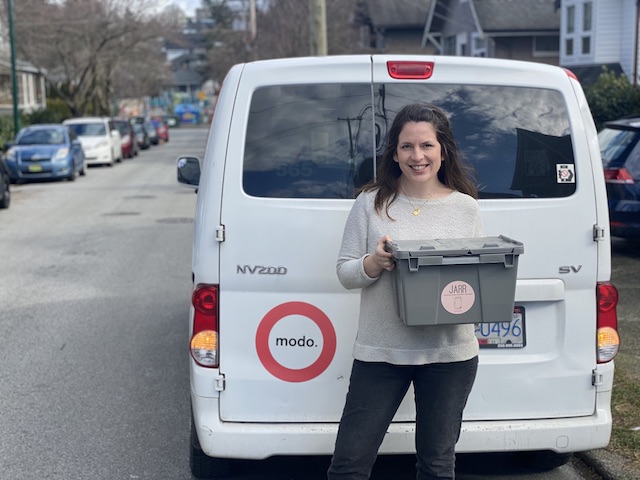 How it Works
Place your order online
Reusable, deposit based containers are filled with high quality, package-free pantry staples by the team at Jarr.
The items are then delivered to your door (delivery is free on orders of $40 or more)
When you place your next order, leave out the reusable containers on delivery day
The containers are picked up, counted and sanitized to be used again and again. You then gets your deposit back (ranging from $1-$2 per jar) and can apply that deposit to their next order
Since launching in July 2020 Jarr has filled 5,000 reusable jars, saving 5,000 pieces of single use packaging from ending up in the landfill. Jarr has seen a 25% increase in sales month-over-month since launching in July 2020.
85 pounds of plastic packaging saved from supplier Westpoint Naturals items alone (15% of Jarr Revenue).
Products
Pantry staples: pasta, rolled oats, popcorn, nuts, baking staples, baking mixes, lentils and beans, spices, tea & coffee, quinoa, dried fruit
Fresh & frozen groceries: bread, eggs, milk products, organic fruit and vegetables, burger mix, jam, milk alternatives Personal care: shampoo and conditioner bars, soaps, shower melts, cleansing powder, face oil, liquid body deodorant, solid deodorant, hand sanitizer
Household supplies: jars, funnels, beeswax wraps, laundry strips, bottle cleaners, all purpose cleaner, laundry soap, dish soap, toilet paper, dishwasher detergent, dish brush, lunch bag, aluminum bottle, mesh tea infuser.
Currently available for delivery in Vancouver, North Vancouver, West Vancouver, Burnaby, New West and Bowen Island.
Enter to Win
I have a Jarr prize pack to give away that includes $150 of groceries AND a $100 gift card to shop again! Here's how you can enter to win:
I will draw one winner at random from all entries at 12:00pm on Friday, April 16, 2021. Winner must be within the delivery area. UPDATE: The winner is Liz K!