In celebration of its 20th anniversary, the DOXA Documentary Film Festival will be taking the show on the road, literally, with DOXA drive-in movies at the PNE grounds in May.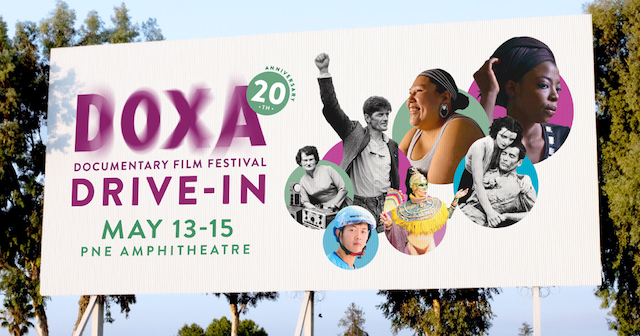 DOXA Drive-In Movies at the PNE
When: May 13-15, 2021
Where: PNE Amphitheatre Grounds
Tickets: Purchase online in advance. Screenings will go ahead rain or shine, with tickets priced at $50 per carload, per film, and a limit of six passengers to a car. Guests are asked not to leave their vehicle during screenings except for restroom access, and strict COVID-19 health and safety protocols will be in place throughout the event to ensure the safety of attendees and staff.
This is DOXA's most exciting innovation for 2021, and a chance for you and the members of your bubble to see a few of this year's standout films in a venue where documentaries rarely make it onto the bill.
Thursday, May 13, 2021
5:30pm Dead Man's Switch: a crypto mystery
The 2018 death of Gerald Cotten, CEO of Canada's largest Bitcoin exchange, reads like something out of a paperback mystery. When Cotten died suddenly in India at age 30, he took with him the secret to accessing $215 million in crypto-currency, setting off a mad search by reporters, regulators and former customers for the missing funds. What they uncovered only raised more questions, including the biggest one of all: Did Gerald Cotten really die, or did he fake his death and walk away with all the money?
9:00pm The Gig is Up
Despite its utopian potential, the reality of the gig economy is something far less auspicious. Work conditions are frequently dangerous, pay often fluctuates with-out notice, and workers can effectively be fired at the push of a button. In The Gig is Up, Vancouver-based director Shannon Walsh offers an unflinching look at the impact gig work is having around the world. Spanning global networks from rural Florida to Lagos, Nigeria (with many ride shares and food services in between), gig workers of all backgrounds share their stories through candid interviews, while tech experts and academics provide critical commentary on an industry now worth over 5 trillion USD—and growing.
Friday, May 14, 2021
5:30pm Someone Like Me
Tasked with a year-long commitment as Drake's primary support network, a group of strangers from Vancouver's queer community unite under the banner of Rainbow Refugee, a non-profit that connects LGBTQ+ asylum claimants with sponsors. In the months following Drake's arrival from Uganda, facets of his turbulent experiences and day-to-day challenges begin to parallel those of certain group members: Marlon also moved cities in order to live his life openly as a gay Black man; David struggles to find job security after grad school; and Kay's gender transition presents a long and emotional road to personal freedom.
9:00pm Kímmapiiyipitssini: The Meaning of Empathy
Filmmaker Elle-Máijá Tailfeathers (The Body Remembers When the World Broke Open) invites viewers to witness the collective work of her community as it faces radical transformation. Surrounded by tall prairie grass gently swaying in the wind, Dr. Esther Tailfeathers, a family doctor, community harm-reduction advocate, and Elle-Máijá's mother, stands strong. She embraces the Blackfoot teaching of Kímmapiiyipitssini: "Kímmapiiyipitssini means compassion…" she says. "In our way of believing, if you help people out then you are blessed to continue to do that, and so our People are supposed to give what they have or what they can to help."
Saturday, May 15, 2021
1:00pm In the Rumbling Belly of Motherland
In the wake of recent news stories announcing the targeted assassination of female media workers in Afghanistan, In the Rumbling Belly of Motherland provides a sharp look into Zan TV, Kabul's female-operated, female-oriented news agency. Filmmaker Brishkay Ahmed, herself a trained journalist with credits from Langara College and Simon Fraser University, returns to Afghanistan to document this simultaneously harrowing and inspiring work environment. The film's intimate cinematography deftly yet quietly reveals the daily, sometimes deadly hurdles faced by Afghan reporters and media staff.
5:30pm FANNY: The Right to Rock
Hard rock was on the rise in the late 60s, and Fanny, a California group that included Filipina-American sisters, impressed everyone with their heavy beats and blistering musical chops. They possessed musicianship, ambition and a major label record deal. So why did they end up on so many lists of the "best forgotten bands," including that of David Bowie? FANNY: The Right to Rock tells the story of a 70s rock band like no other—all-female, with Asian-American and LGBTQ+ members—who struggled to overcome the limitations of an industry and a society hellbent on painting them into a hyper-sexualized corner.
9:00pm Poly Styrene: I Am A Cliché
Poly Styrene was the first Black woman in the UK to front a successful rock band. She introduced the world to a new sound of rebellion, using her unconventional voice to sing about identity, consumerism, postmodernism, and everything she saw unfolding in late 1970s Britain, with a rare prescience. As the frontwoman of X-Ray Spex, the Anglo-Somali musician was also a key inspiration for the riot grrrl and Afropunk movements. But the late punk maverick didn't just leave behind an influential cultural footprint; she is survived by a daughter, Celeste Bell, who became the unwitting guardian of both her mother's legacy and her demons. Misogyny, racism and mental illness plagued Poly's life, while the lasting trauma scarred Celeste's childhood and the pair's relationship.
DOXA Documentary Film Festival
When: May 6-16, 2021
Where: Online
Tickets: $7-10 sliding scale per individual virtual ticket; Early Bird Festival Passes: $60; Regular Festival Passes: $75; Anniversary Festival Pass + Package: $200
Check out the DOXA Special Presentations announcement here and follow DOXA on Facebook for the latest news and announcements.