Carousel Theatre for Young People ("CTYP") is launching its next AudioPLAY 蝦仔 Little Shrimp, an interactive audio performance led by theatre artists Nancy Tam and Derek Chan. Listeners are invited to follow along a bilingual audio performance about intergenerational relationships within Chinese culture and families.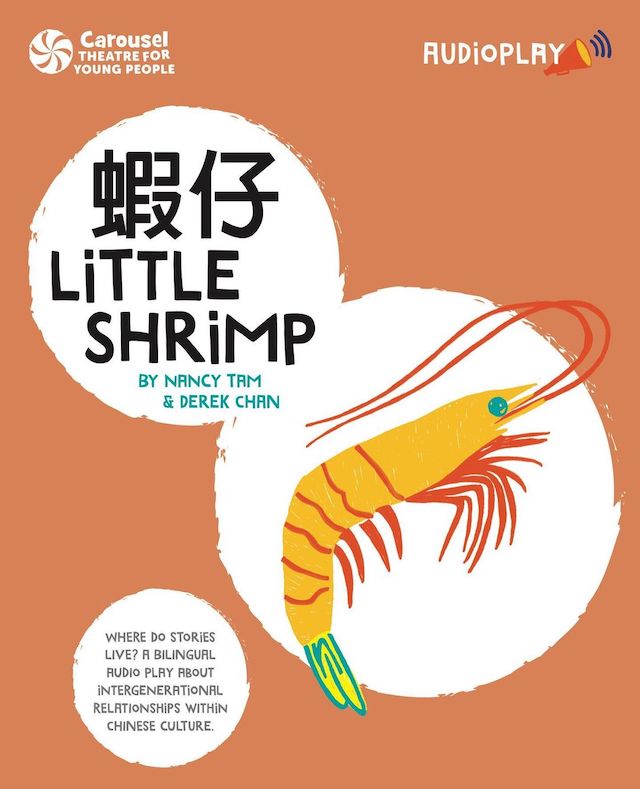 Carousel Theatre Launches AudioPLAY About Chinese Traditions
When: April 8 – May 2, 2021 (listen anytime)
Where: Online, you can tune in from home or the classroom
Tickets: Available for purchase online ($18-$50 with individual or class packs). Recommended for children ages 6+.
蝦仔 Little Shrimp is created and performed by Derek Chan, Howard Dai, Nancy Tam, Natalie T.Y. Gan & Robyn Jacob. Open your imaginations and take part in Qingming and other Chinese traditions!
"What truly connects us to our cultures and families: language, food, or traditions? All of the above, and perhaps entirely something else? Our brave Little Shrimp with a big heart takes us on an adventure through the surprising, musical, and sometimes spooky underwater world to find out." – Co-creators Nancy Tam & Derek Chan
Where do stories live? How are stories passed on from one generation to the next? Do our ancestors live within us? The show's Cantonese title, 蝦仔 ("little shrimp" in English), is an endearing, diminutive, and gender neutral term for a small child. Commonly used about two generations ago roughly around the turn of the last century, the term connotes a kinship between the child and the adult.
蝦仔 Little Shrimp is an at-home AudioPLAY experience with interactive elements. It's the third and final show in CTYP's 2020/21 season of screen-free audio theatre designed to engage and excite. Follow on Facebook for the latest news and updates.
CTYP is Vancouver's only mainstage theatre company for young audiences. Its mission is to provide
theatrical experiences with lasting impact for young people, families, and artists.