I have been known to enjoy a Trail Hopper IPA on the patio after a walk through my local park's 20km network of paths so I was excited when I heard that Stanley Park Brewing and the Stanley Park Ecology Society have been teaming up for over a decade!
It's Vancouver's most popular natural gem and thanks, in part, to consistent annual funding from Stanley Park Brewing, the Stanley Park Ecology Society (SPES) is working to conserve Stanley Park's delicate habitats and biodiversity that are crucial for healthy ecosystems and wildlife. For Earth Day, I caught up with Stanley Park Brewing's Jeremy Nickel to talk about this important, and natural, partnership.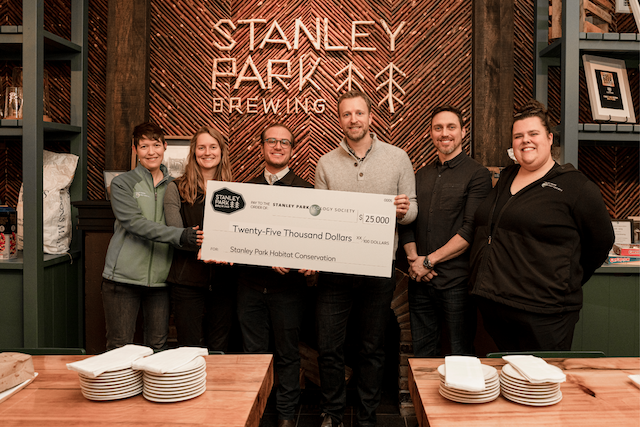 Stanley Park Brewing and Stanley Park Ecology Society
Miss604: How important is it for Stanley Park Brewing to give back to the community?
SPB: Giving back within Stanley Park and to the broader community are super important to us. Our Brewpub in Stanley Park is frequented by locals and visitors alike, the park itself offers so much to us that we want to do our part to ensure the preservation and prosperity of the park. We also enjoy being a part of the broader sports & leisure communities that enjoy the beauty of the park through events such as the Stanley Park Tennis Open, RunVan Marathons, Scotia Half and others.
Miss604: What has your relationship with SPES been like over the years?
SPB: We've been connected with SPES for well over a decade now. One of our first key partnerships was at the Epic Sustainable Living Expo where we helped drive awareness to their cause and their stewardship initiatives. We also turned that event into a fundraiser by providing tasting glasses by donation, where all proceeds went to SPES.
We've continued to partner with them whenever and wherever we can. We participated in and supported the SPES Adopt-An-Acre program, invasive species removal sessions, bird tours, and heron monitoring. After the big windstorm of 2006 we also supported replanting initiatives throughout the park, as well as launched our Windstorm West Coast Pale Ale as a fundraising initiative to help SPES through the difficult task of rebuilding sections of the park.
We also focus on creating on the ground awareness for what SPES does at our events throughout the year and by hosting Earth Day activations in the park every year (minus COVID-19 years unfortunately). We also like to treat their volunteers when we can, as SPES couldn't survive without them. We could share so much about initiatives we've engaged in over the years, but the most important thing for us is that we want to be a strong, holistic partner to SPES. In that vein we also recognize the need for financial support and have contributed over $125,000 in cash donations in addition to our support of their various initiatives.
Miss604: How is Stanley Park Brewing celebrating earth month/earth day?
SPB: The Earth is home for us all, and for us celebrating Stanley Park is how we celebrate Earth Day, and our activations have always been park-centric. This year we launched our Conservation Corner as one of our newest SPES related initiatives and just in time for Earth Day. The Conservation Corner will be a rotating exhibit about SPES's on-going work including the monitoring of the nearby Great Blue Heron colony, the restoration of the rare bog at Beaver Lake, and the ongoing invasive species removal campaign.
As a brewery, we also had to do what we do best, which is produce a great park-inspired beer. We are launching the Secret Cellar Bourbon Barrel Stout on Earth Day this year. This limited-edition beer has been barrel-aged for well over a year at the ambient temperature and humidity of Stanley Park. It is a really spectacular beer crafted by Brewmaster Thom Riley, and is truly Stanley Park-infused! We will only have 750 cans available and starting Earth Day you can sign up to be the first to know. .
Miss604: What would be the most "Stanley Park" inspired brew you could think of?
SPB: Ha! Well truthfully all our beers are Stanley Park inspired. Stanley Park is at the core of our essence and is our inspiration for everything that we do. All our planning for our brews and otherwise, start from the same spot, Stanley Park. Just as park visitors are reinvigorated when they get a taste of nature, we aim to provide that same feeling of reinvigoration with our brews.
Personally my favourite is our Trail Hopper IPA too! It was launched right around the opening of our Stanley Park Brewing Restaurant and Brewpub and it is a nice inauguration of that special moment.
Miss604: How can we support SPB and SPES's efforts?
SPB: We really encourage people to learn about all the great work that SPES does. Stanley Park truly stays our crown jewel because of much of the invisible work SPES does and they can always use your support.
Visit the Stanley Park Ecology Society website and check out their online events, take one of their tours (when COVID-19 restrictions allow) or come by our Stanley Park Brewpub and visit our Conservation Corner to see what initiatives they are undertaking in the park seasonally.
If nothing else, have a Stanley Park beer and remember the reinvigoration you feel when you're in the park. And you can always visit Stanley Park Ecology Society and Stanley Park Brewing online to see what we're up to!
Miss604's Rebecca Bollwitt began serving on the SPES Board of Directors in the summer of 2020.