YES! Vancouver, a non-profit created to connect career driven women with like-minded peers, kick-starts its annual event lineup with a virtual edition of its Know Your Worth series during Women's Month.
The event encourages an open discussion on defining personal values, and attendees can expect an engaging panel discussion, led by some of Vancouver's most talented female professionals. It will also include a guided workshop, and virtual auction from which all proceeds benefit Dress For Success Vancouver.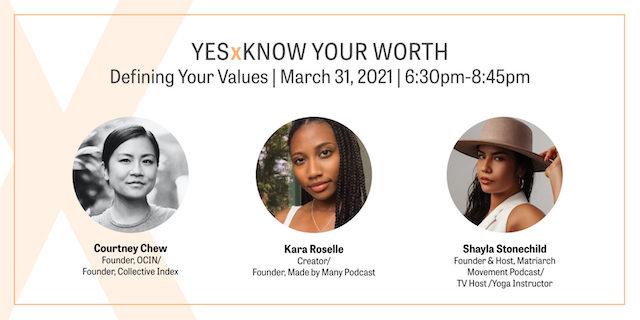 YES! Vancouver: Know Your Worth Series
When: Wednesday, March 31, 2021 from 6:30pm to 8:45pm
Where: Virtual Event via Zoom
Tickets: Available online now. Tickets are offered on a sliding scale price system starting at $22.23 with 100% proceeds going directly towards Dress For Success Vancouver
Virtual Auction: Wednesday, March 31, 2021 12:00pm to Thursday, April 1 2021 9:00pm
Know Your Worth 4.0 welcomes inspirational leaders and community builders, forming a distinguished panel of speakers that includes:
Courtney Chew, Founder of Collective Index and the eco-friendly swimwear line, OCIN
Kara Roselle, Graphic Designer and Host & Founder of the podcast and community, Made by Many
Shayla Oulette Stonechild, Founder of the Matriarch Movement, a meditation and movement platform dedicated to bringing awareness to the Missing and Murdered Indigenous Womxn
Amy Robichaud, Executive Director of Dress for Success Vancouver, will serve as a moderator for the evening, guiding speakers through a panel discussion, followed by a curated workshop and a live Q&A session for attendees.
"This will be my third time moderating KYW. I genuinely look forward to these few hours each year. It is fun, energetic, full of deep learning, and most importantly women lifting each other as they rise by leading with generosity and incredible talent," says Robichaud. "The community of women who come together for this event are the reason why Dress for Success Vancouver is able to empower thousands of women into the workforce each year – they are champions for others and are willing to give what they can, when they can."
Attendees will also have a chance to win door prizes and participate in a community-wide virtual auction on the YES! Vancouver Instagram to raise additional funds for Dress For Success Vancouver.
Inspired by unprecedented times, this year's YES! Vancouver events follow an overarching theme of 'Telling Your Story.' Everyone has their own 2020 COVID story related to work, relationships, life, health, anxiety and stress. The intention is to normalize difficult times and the sharing of experiences with the wider community, while providing support for each other both personally and professionally.