The Big 50/50 jackpot is over $215,000 and it's growing! Purchase your tickets today and help get the pot up to a million, all in support of four BC charities and of course, the winner takes home half.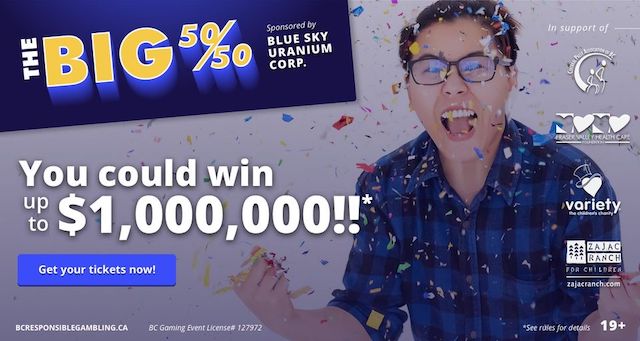 The Big 50/50 Raffle
Purchase online here by April 15, 2021
Tickets: 4 for $20; 15 for $50; 75 for $100
Ticket Sales End: Thursday, April 15 at 6:00pm PDT
Draw Date: Friday, April 16 at 12:00pm PDT
Charities today are facing unprecedented fundraising obstacles due to the COVID-19 pandemic. The Big 50/50 Raffle represents the unification of four important and diverse organizations joining forces to raise funds so they can continue to provide the community support BC residents count on. Here's who you will be supporting with your ticket purchase:

Cerebral Palsy Association of BC
In March of 2020, the COVID-19 pandemic forced CPABC to stop running the in-person recreational and support programs. In order to continue to serve their members with respect to the social distancing guidelines, they transitioned the Adapted Yoga, Dance Without Limits, and Support Group programs to virtual delivery through Zoom. After transitioning to online delivery, they realized the potential to add new recreational and support programs through Zoom. Your support means CPABC can continue to offer an array of virtual support, from therapies and meditation.
Fraser Valley Health Care Foundation
This past year has required the FVHCF to find new and innovative ways to support health care in eastern Fraser Valley. The Big 50/50 Lottery is their unique and new way to raise much-needed funds for important programs and services that they provide day in and day out. They are so thrilled to have partnered with these other charities as they too see the need for innovative growth due to the pandemic and the difficulty in reaching out through annual galas, live events, and donor and partner events.
Variety – the Children's Charity of BC
With proceeds from The Big 50/50, Variety BC will be able to bring more health care support that's not covered by private or public health care to countless BC's kids with special needs and their families. This means kids will get access to health care support like mental wellness counselling, speech therapy, custom orthotics, mobility equipment and more. Essential services and resources that make everyday life easier for these kids and their families.
Zajac Ranch for Children
In the summer months, Zajac Ranch for Children provides camps for children and young adults with chronic, life-threatening and/or debilitating conditions. These experiences give participants the opportunity to explore the outdoors while developing greater social and environmental awareness, increased self-confidence and positive growth in attitudes towards physical activity. Since 2004 over 5,600 children with long term medical conditions and disabilities have been to Zajac Ranch, with over $20 million invested in our fully inclusive facilities.
The Big 50/50 Raffle fundraising initiative is designed to help these important causes continue to provide a more equitable quality of life for all BC residents. Get your tickets today!