Until further notice, all non-essential travel to and within British Columbia should be avoided. Now is the time for us to stay local and support local, so that we can all explore BC again, soon.
While now is not the time to travel outside our communities, I wanted to (re)introduce you to one of BC's most spectacular regions for your future travel consideration. If you're looking for quiet, uncrowded, off the beaten path adventure in our beautiful province, here's how you can travel safely and responsibly in the Cariboo Chilcotin Coast:
Reconnect and Redefine Travel in BC's Cariboo Chilcotin Coast
With a vast landscape of forests, fjords, peaks, and plains ranging from the Pacific Coast to the Cariboo Mountains, the Cariboo Chilcotin Coast has something for every British Columbian to experience.
You'll find a new responsible travel series on the CCC website that focuses on wildlife and environment, personal safety, as well as respect for communities and cultures.
Wildlife and Environment
My last brush with wildlife in the region was in Williams Lake at the Scout Island Nature Centre, where I spotted deer, turtles, red winged blackbirds and dozens of other migratory birds along the 2.5km network of trails right on the edge of town! Read more about bear safety and awareness, Leave No Trace principles, hiking safely with your dog, and personal hygiene in the outdoors here.
Personal Safety
There are over 8,000 lakes in the Cariboo, and I paddled a good half dozen of them on my last trip a few summers ago. On that trip I rented a kayak from Lone Butte Sporting Goods (who also took me on a fishing adventure) and dipped my paddle into Horse Lake in 100 Mile House. There are so many options, both on dry land and in the water, that personal safety when it comes to dressing in layers, packing the essentials is key.
Understanding navigation is also an important element, especially when you're taking an epic Gold Rush Trail road trip like I did from the charming town of Horsefly, around to Likely, and over to the Quesnelle Forks ghost town site along dusty gravel roads.
Read more about these trip essentials including route planning and checking forecasts here.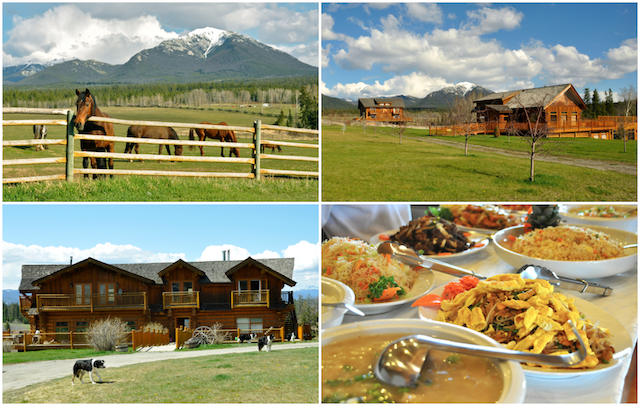 Respect for Communities & Cultures
The Cariboo Chilcotin Coast Tourism Association gratefully acknowledges that we live, work and play on the traditional, ancestral and unceded territories of the St'at'imc, Secwepemc, Nlaka'pamux, Dakelh, Tŝilhqot'in, Nuxalk, Tsimshian, Heiltsuk and Wuikinuxv peoples.
I love learning more about the culture in the communities I visit, and doing so in a respectful manner. Whether it's a visit to the Station House Gallery or the Potato House Project in Williams Lake, a walk to Moffat Falls in Horsefly, settling in for a pint at Jackson's Social Club & Brewhouse in 100 Mile, or riding ranch land trails in 108 Mile.
The most impactful experience I have had in the region was when I was invited to the Chief William Fathers Day Traditional Pow Wow. The food, the shopping – so many great booths filled with hand-made pieces and artisanal treats – and of course the community and camaraderie was unlike any type of event I had attended.
Aside from learning about and respectfully participating in Indigenous culture, you can find some great resources for observing protocols, guidelines, and traditions of communities and cultures here.
I can't wait to plan my next trip back, in the form of a road trip perhaps with some camping as well. There are so many options in the region, and on top of the culture, food, epic landscapes and options for adventure, the history is incredible.
Get inspired, and informed, for your future travels in this stunning and diverse region and check out some of the incredibly unique accommodation offerings as well.
Follow the Cariboo Chilcotin Coast on Facebook, Twitter and Instagram to save some posts for your future trip planning.