Take some crispy French fries, the squeakiest of cheese curds, ladle on some sauce and top it all with a generous helping of supporting a great local cause because Poutine with Purpose is back!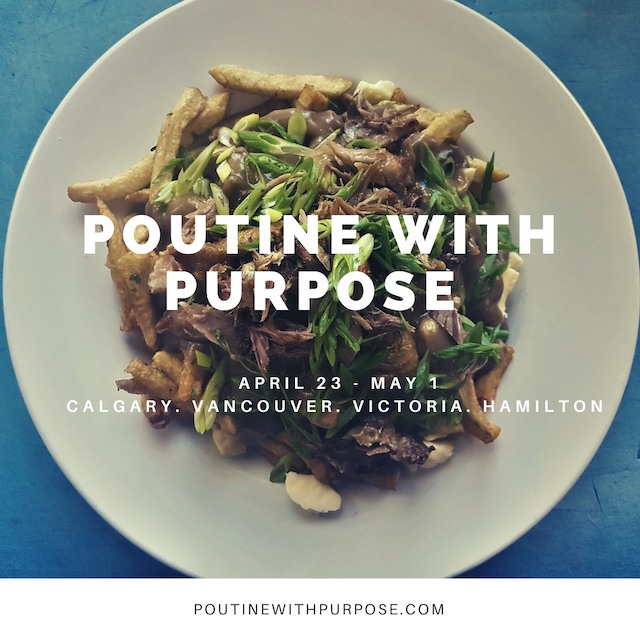 Poutine for a Cause in Vancouver
When: April 23 to May 1, 2021
Where: Participating locations/restaurants
How it Works
Find a poutine or restaurant you would like to try here »
Eat poutine
A youth in need provided a meal through Mealshare partners. Mealshare partners with restaurants across North America through a simple 'buy one, give one' model that provides simple, healthy meals to youth in need.
Local chefs are challenged to dream up and dish up a feature poutine for the week — from the traditional, to the creative, to the unusual.
Confirmed participants in Greater Vancouver so far…
Trading Post Brewery (Langley) & Trading Post (Abbotsford) –Mexican Style Poutine; cheddar cheese, salsa verde, cilantro lime cream, seasoned ground beef, fresh tomato, crispy jalapenos $16
Colony Bars (Kitsilano, Main Street, Northwoods and Granville)
Brix & Mortar (Yaletown)
CRAFT Beer Market Vancouver (Olympic Village) – Best seller in 2019, with 386 sold!
Tap and Barrel (Convention Centre, Olympic Village, Shipyards)
The Park Pub (1755 Davie St, Vancouver)
Patina Brewing
Wok Box (Surrey, Abbostford and New West)
Poutine with Purpose started in 2010 as a one-day poutine crawl in Calgary created as a fun social media experiment by MRU instructor Karen Richards. The poutine passion grew into Calgary Poutine Week, and over time, has evolved into an annual food festival frenzy in Calgary, Victoria and in 2019 they launched in Vancouver. Poutine With Purpose events have sold over 35,000 poutines since 2013. Follow along on Facebook for updates.