This weekend you can take part in a virtual games night, for a great cause! Make-A-Wish® Canada and Honda Canada Foundation have partnered for the first-ever Make-A-Wish Play for Wishes.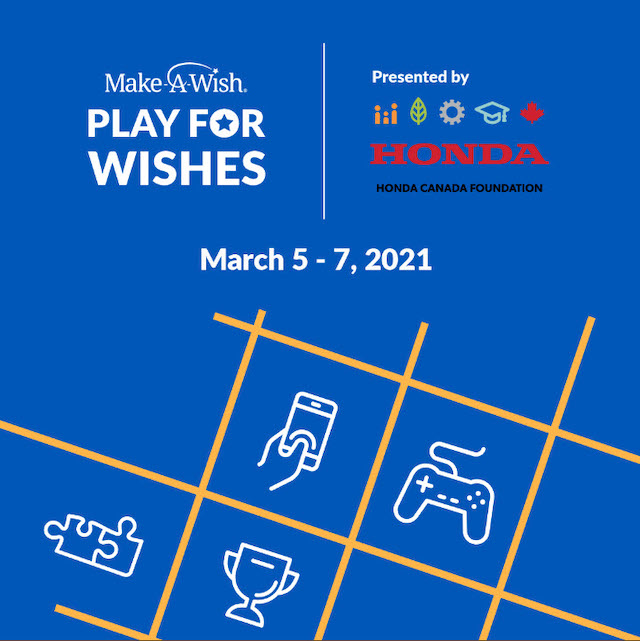 Make-A-Wish Play for Wishes
When: Friday, March 5 to Saturday, March 7, 2021
How to Play: Register online
Honda Canada Foundation is matching up to $25,000 of funds raised, doubling the impact for #PlayForWishes! Featuring wish kid Xander and television sportscaster Kate Beirness as ambassadors, Play for Wishes is a virtual games night event to help raise funds that will grant life-changing wishes to children with critical illnesses.
Registered participants can enjoy the many games provided, like bingo, trivia, or they can play their favourite board games, video games or team challenges. Participants get to choose how and when to have fun with friends and family, in the safety of their homes, all while making a difference in the lives of wish children who need the hope of a wish during a difficult time.
"Over the past ten years, Honda Canada Foundation has raised close to $1.4 million to support our mission," says Sheila Rees, Make-A-Wish Canada's Vice President of Development. "The national virtual Play for Wishes is just another incredible initiative of how Honda Canada Foundation is committed to ensuring that life-changing wishes for children with critical illnesses continue, especially during these extraordinary times."
In 2019, the organization granted over 1,600 life changing wishes. But as we all know, 2020 was different and as a result of COVID-19, more than 4,000 wishes were delayed. While Make-A-Wish Canada's ability to grant wishes that involve travel and gatherings has been impacted, the life-changing work continues. Make-A-Wish Canada remains focused on their mission and continues to grant memorable wishes while keeping wish families safe.
For a child fighting a critical illness, every day of waiting for a wish is one too many. By participating in Play for Wishes, you can help give a kid a piece of their childhood back.
Since 1983, Make-A-Wish Canada has granted over 35,000 wishes across the country, over 1,000 last year alone.