This month marks the ten year anniversary of the Places That Matter to Vancouver, a plaque program and community history resource website created in 2011. Initiated for Vancouver's 125th anniversary of incorporation, the program features 125 community-nominated sites, covering some of the people, places and events that tell the story of the city's history.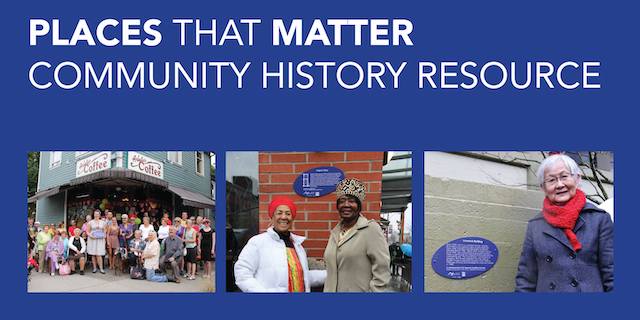 Places That Matter to Vancouver 10 Year Celebration
When: Tuesday, February 16, 2021 from 7:00pm to 8:00pm
Where: Online
Tickets: Register for free
I was honoured to be on the selection committee back then, along with John Atkin, Arabella Campbell, Marguerite Ford, Charles Gauthier, Michael Kluckner, Kamala Todd, Hal Wake, Catherine Wang and Bruce Watson.
Each of the 125 sites is profiled with their own webpage exhibiting the plaque text, historic research, oral histories, contemporary and historic photos, as well as opportunities for community contribution. You can view an interactive map online here.
To celebrate ten years of the campaign, here are ten of the sites listed:
and many more! A decade later, with 88 plaques installed, the online community history resource continues to grow with community contributions of personal stories and photographs for 125 sites.  
Have anything to add? The Vancouver Heritage Foundation welcomes comments, feedback, quotes, stories, information and questions in the "submit your story" form.