Although it went fully virtual, it was an incredible Variety Show of Hearts Telethon 2021, raising $6,681,873 million for kids with special needs over the weekend!

Variety Show of Hearts Telethon 2021
Viewers tuned in to meet some of the kids Variety helps during the 55th Annual Variety Show of Hearts, which aired Saturday on Global BC. Last year's Show of Hearts raised $5,515,238 to benefit children with special needs province-wide.
"This truly was the Show of Hearts with British Columbians once again opening their hearts to help make a difference in the lives of BC's kids with special needs," said Cally Wesson, Variety BC CEO. "And it's because of their incredible generosity that we'll be able to help even more kids. We're just so extremely appreciative that we can now say 'yes' to every child needing our help and that no child will be turned away. Thank you BC."
Global BC's Chris Gailus, Sophie Lui, Kristi Gordon, Neetu Garcha, Paul Haysom & Kaitlyn Herbst returned as Telethon hosts along with 980 CKNW's Jody Vance who was joined by Show of Hearts favourites Howard Blank, Alvin Law & Marco Pasqua and Variety Youth Ambassadors Esabella Strickland, Mihai Covaser & Janelle Milne. Making his Variety debut was Mo Amir, host of the popular podcast, This is VANCOLOUR.
Show Your Heart Contest
As the proud Social Media Sponsor of the Show of Hearts, Miss604 hosted a photo contest over the last few weeks, asking British Columbians to "show their heart" tagging a heart photo on Facebook, Twitter, and Instagram.
These amazing volunteers, who usually help out in the Miss604 Social Lounge at telethon, continued their support virtually this year and also helped judge the photo contest:
Mary Sheridan, John Biehler, Rebecca Coleman, Lyndsey Locke, Cathy Browne, Scott Graham, Leeann Froese, and Jenny Miles.
Here are the winners!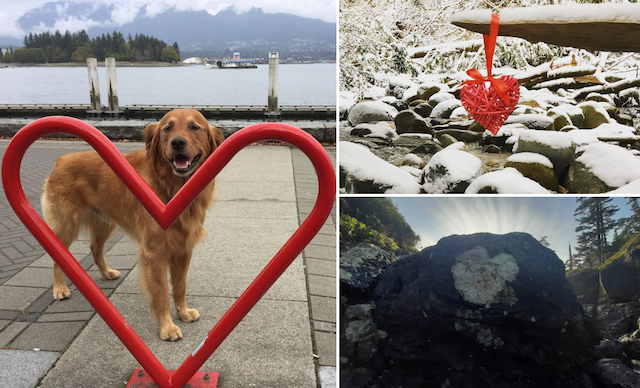 In first place (winner of $100 gift card) is Chris Corson with a cheerful pup on the Seawall in Coal Harbour (left). The runners up (receiving $50 gift cards) are Shannon Gnocato with a snowy heart (top right) and Kristy with a natural heart-shape on a rock in Tofino (bottom right).
Congratulations to all and thank you for spreading the word about the Show of Hearts.
Donations can be made by calling toll-free at 310-KIDS as well as online or by texting "KIDS" to 45678 to make an automatic $20 contribution.
Variety – the Children's Charity steps in where health care ends providing direct help to children with special needs in BC. For 55 years, Variety has ensured children have the support to reach their potential. Since 2010, Variety has distributed more than $33 million in funding to families and organizations in communities all across the province. 
Miss604 is the proud Social Media Sponsor of the Show of Hearts