Take a family trip to the top of the world with the Vancouver Maritime Museum ("VMM") as they present their next free virtual event for families, Arctic Adventure, on Family Day.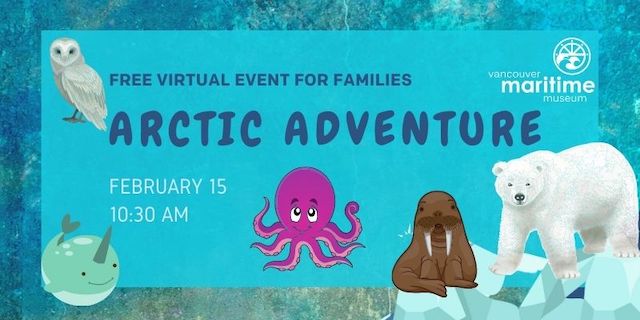 Vancouver Maritime Museum Virtual Family Day
When: Monday, February 15, 2021 at 10:30am – 12:00pm
Where: Online
Tickets: Free with online registration
Travel virtually to the Arctic, a place like no other, and explore the extraordinary polar region that is home to incredible animals. This 90-minute excursion has a little something for everyone.
Your itinerary begins with a presentation by VMM programs supervisor Dennis Chen about the amazing Arctic ecosystem and the many species of animals that it supports. Dennis will talk about a wide variety of land and marine animals that showcase Arctic biodiversity. Polar bears, narwhals, snowy owls, the walrus and more.
The presentation will include craft time where families can make their own Arctic octopus with items from around the house. While you're finishing your octopus craft, Dennis will lead a discussion about how climate change is impacting the Arctic.
The next stop in your adventure is a story time for kids aged four and up. VMM intern Nikki Hashemian will read In Arctic Waters by Laura Crawford, an adaptation of The House That Jack Built that follows polar bears, walruses, narwhals and belugas as they chase each other around Arctic waters.
Families looking for outdoor Family Day adventure are invited to visit Vanier Park to look for maritime-themed riddles and jokes on display for Heritage Week (February 15-21, 2021).