Ensemble Theatre Company presents Us: A Black Peoples Month Festival, January 28 to February 25, 2021, as part of their commitment to anti-racism. Curated by Black artists Adrian Neblett and Mariam Barry, the free, all access festival features theatre, films, podcasts and staged readings from the diaspora.
Us: A Black Peoples Month Festival
When: January 28 to February 25, 2021, new releases on Thursdays
Where: Online via Ensemble Theatre
Tickets: Free to access through individual show pages, no tickets needed. Donations are optional.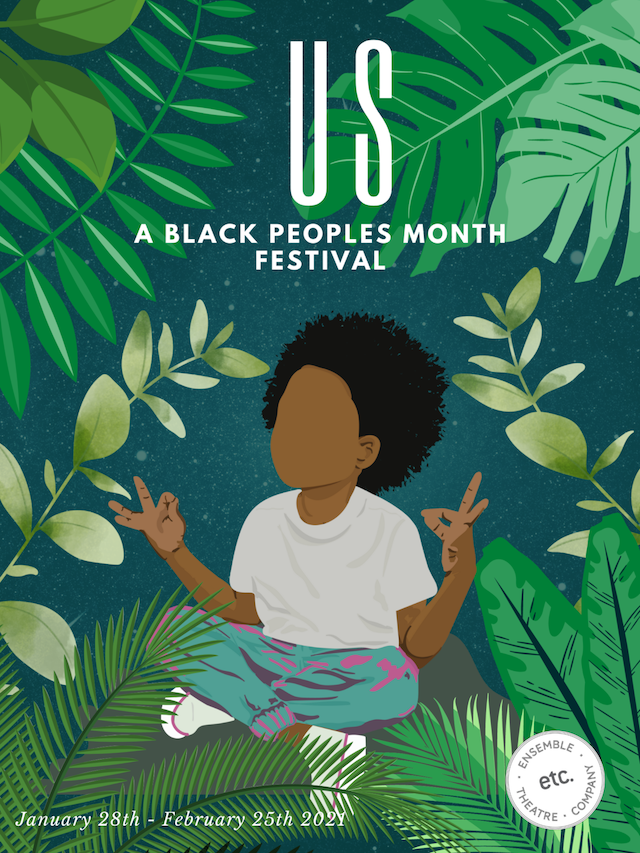 "The theme of the festival is Belonging – a soft reminder that all black voices belong to the black community (queer voices, African voices, Afro-Caribbean voices, immigrant voices, refugee voices, female voices, biracial voices, etc.), and that Black folks belong in this world despite white supremacy's aim to erase us."
Program
3 Part Disharmony – a filmed play
Written by L. Trey Wilson, Directed by Omari Newton
Starting January 28th: Three disparate views on what is potentially the worst day in a black male's life: a police encounter. In this socially relevant piece by playwright L. Trey Wilson, three black men wrestle with the question of how to survive.
BLKS – podcast
Written by Aziza Barnes
Starting February 4th: Black female friendships take centre stage in this coming of age play by Aziza Barnes. From queer love and entanglements to the pressures of adulting, BLKS is a laugh out loud comedy, and a toast to the sistas who hold you down. 
The Poet & The Patrician: Baldwin vs Buckley – podcast
Starting February 11th: The Poet & The Patrician: Baldwin vs Buckley is an audio recreation of the historic debate between James Baldwin and William F. Buckley Jr. Listen to Baldwin (Adrian Neblett) and Buckley (Tariq Leslie) go head to head in this charged debate from February 18th 1965, in Cambridge, England, which is clearly still relevant today, 65 years after the event.
Legacy – short film
Written by Mariam Barry
Starting February 18th: Legacy is an international independent film created by Mariam Barry. Based on real events, Legacy explores the migrant crisis through the lens of modern African youth. Set between Norway and The Gambia, an African boy takes the backway route to Europe. As he journeys North, the consequences of his choices are felt across the ocean.  Legacy was filmed in collaboration with Iris Studios, a video production team founded by youth artists in The Gambia. In this cross-continental project Mariam pays homage to her African heritage as a biracial artist of Gambian and Norwegian descent.
Film Festival: A Drive-In Experience
Starting February 25th: Featuring local and international work, Us Film Festival is a celebration of Black talent from around the world.
The illustrations for the festival were created by Annabelle Irakiza.