In tribute to the contributions of Canada's Black communities, and to help amplify inspiring voices and stories, the NFB is launching two feature docs online that have been acclaimed by critics and audiences alike, and showcasing a selection of films from its extensive catalogue.
The NFB's Black History Month Film Lineup
These must-see new films join more than 4,000 titles already available for free through the NFB online.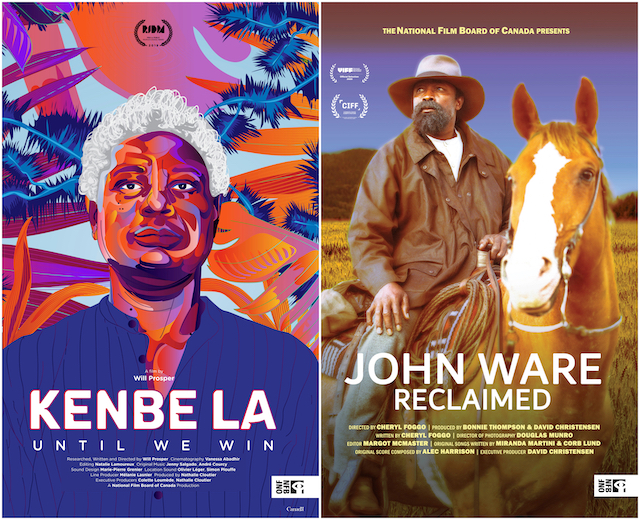 Starting February 1: Kenbe la, Until We Win by Will Prosper
(2019, French Program Documentary Studio)
Feature-length documentary (83 min)

Ranging from the lush Haitian countryside to the icy landscapes of Canada, this sensitive film chronicles the journey of the late artist, philosopher and activist Alain Philoctète, whose dreams remain universal, resonating across generations and continuing to inspire us. The film had its world premiere at the 2019 Montreal International Documentary Festival (RIDM), winning the People's Choice Award, and had successful theatrical screenings in Montreal as well as on a tour of Eastern Quebec.
Starting February 8: John Ware Reclaimed by Cheryl Foggo
(2020, North West Studio)
Feature-length documentary (71 min)

The filmmaker re-examines the story of John Ware, the Black cowboy who settled in Alberta prior to the turn of the 20th century. Foggo's research uncovers who this iconic figure might have been, and what his legacy means in terms of anti-Black racism, both past and present. The film had its world-premiere screening at the Calgary International Film Festival, where it won the Audience Choice Award for an Alberta Feature.
In these times more than ever, stories of Black communities in Canada deserve to be seen and heard. Explore the NFB's collection of films by award-winning Black filmmakers, creators, and allies of Black communities, detailing a rich history to better understand the present.