EcoStories Film Camp is an exciting new opportunity, offered by the Stanley Park Ecology Society in collaboration with The Cinematheque, where youth ages 14-17 can explore their reciprocal relationship with nature and make a short film about it.
EcoStories Film Camp
Where: Distanced in person, and virtual
When: March 15 to March 26, 2021
Register: Online here. SPES members $430, non-members $470. Bursaries available for Indigenous youth.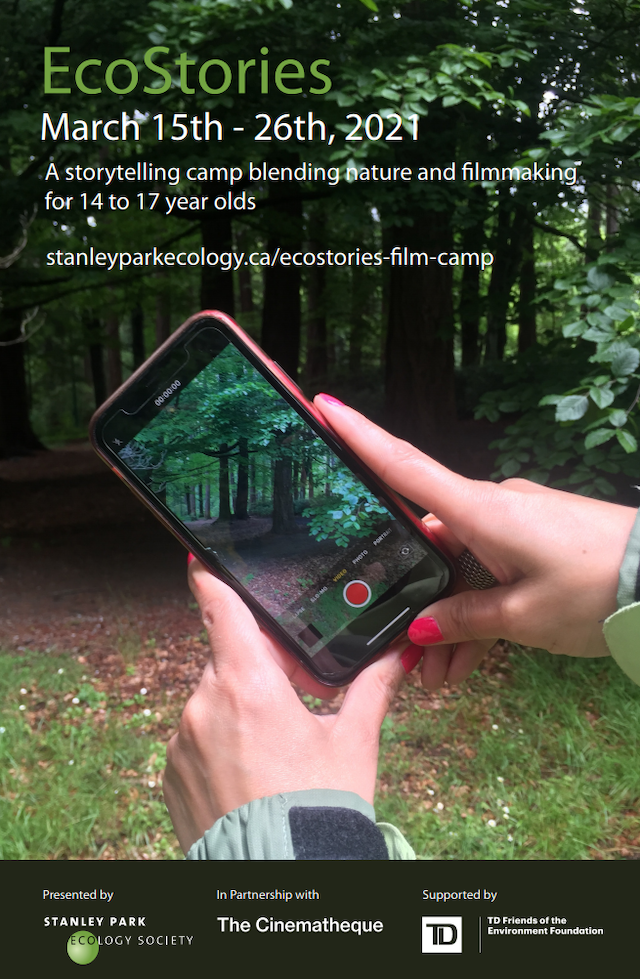 Through a variety of nature-based activities, including weaving with plants, youth will learn from diverse knowledge holders about the natural world and the power of story-telling. Experts from The Cinematheque will coach and empower youth to convey these learnings and connections via a short film made on a smartphone.
The format will allow for social distancing while offering campers the opportunity to safely engage with camp leaders and fellow participants. Participants must be comfortable with self-direction for the nature activities, filming, and drop ins to the Stanley Park Ecology Society's offices at the Dining Pavilion and Nature House, or else have guardians available to assist and supervise. A tentative daily schedule can be found online here.
Participants are welcome to use their own phones/laptops, but will have access to smartphones for filming, basic film equipment, and laptops for editing their work. They will be able to sign out all equipment to use for their filmmaking process.
For more information visit the Stanley Park Ecology Society website.