Dine Out Vancouver Festival, Canada's largest food and drink celebration, returns for its longest run ever. This season, diners can enjoy 31 days of feasting fun from February 5 to March 7, 2021.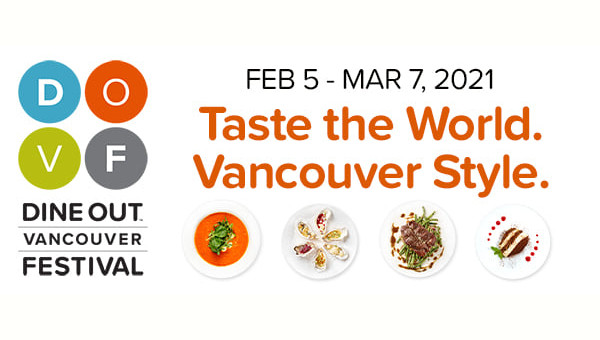 Dine Out Vancouver 2021
330 local dining establishments are serving up multi-course meals with price ranges from $15 to $54, and other promotional offers.  
Over the last year, hospitality businesses have adapted to new health and safety protocols to ensure diners can continue to have a safe experience at their favourite restaurants. Dine Out Vancouver is a great opportunity for foodies to try more restaurants than ever before and show their support and love for local eateries.
Returning for its highly anticipated 19th year, diners can look forward to a tasty lineup of special menus from local chefs and socially distanced gastronomic experiences that will adhere to all Public Health Order restrictions and COVID-19 safety practices.
New this year, hundreds of participating restaurants will dish up menus in different price ranges rather than fixed prices to allow more flexibility and choice for patrons. There will also be special offers and take-out options available this year for Dine Out!
More details on special dining events from restaurants and hotel offers will be available later this month, with reservations opening January 25th.
Follow Dine Out Vancouver on Facebook #DOVF for news and updates.