It just wouldn't be February in BC without the legendary Variety Show of Hearts Telethon! Tune into the 55th annual program on Global BC and enjoy hours of entertainment and inspiration, while Variety raises funds for BC kids with special needs.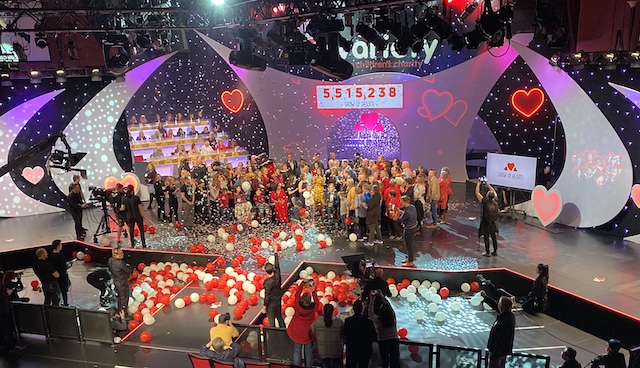 Variety Show of Hearts Telethon
Due to the increased need for help, Variety – the Children's Charity and Global BC will be presenting this year's Show of Hearts in an all-new format with the goal of raising even more money for BC's kids with special needs.
When: Saturday, February 20, 2021 from 1:00pm to 5:30pm

Special presentations Thursday, February 18th & Friday February, 19th during Global Morning, Noon, and evening News Hours

Where: Global BC (on television and online)
Throughout the three days, viewers will see their donor dollars hard at work when they'll be introduced to children who have been helped by Variety including 5-year-old Emiliano who received a standing frame and leg braces to not only help support his lower extremities and promote spinal alignment but to also prevent future deformities from occurring.
Returning to the stage will be hosts Chris Gailus, Sophie Lui, Kristi Gordon, Neetu Garcha, Paul Haysom and Kaitlyn Herbst as well as 980 CKNW's Jody Vance. Mo Amir, host of the popular podcast, This is VANCOLOUR will alos be joining the telethon. You'll also hear from Show of Hearts favourites Howard Blank, Alvin Law and Marco Pasqua along with Variety Youth Ambassadors Esabella Strickland, Mihai Covaser and Janelle Milne.
This year's entertainment line-up will feature Special Guest sixteen-time GRAMMY Award-winning songwriter and Canadian icon, David Foster who last appeared on Variety's Telethon in 1992. Joining David will be American Idol alum, Pia Toscano. And making their Show of Hearts debut will be legendary Canadian rockers, Loverboy.
Show Your Heart Contest
Miss604 is returning as the sponsor of the Show of Hearts Social Lounge, except instead of lounging inside the theatre where telethon is happening, we're going fully digital to connect viewers and supporters!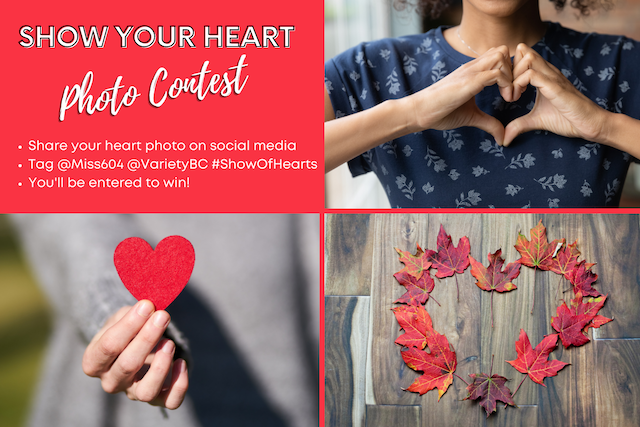 To help spread the word about the Show of Hearts, I'm hosting a photo contest open to all of BC, with $200 in prizes.
How to enter:
Post a photo* of a heart (make a heart with your hands, draw a heart in the sand at the beach, make a heart with leaves in your yard, etc.) on social media – Twitter, Facebook or Instagram.
Tag: @Miss604 @VarietyBC and #ShowOfHearts to be entered.
We want to spread the word about the #ShowOfHearts telethon February 20th as well as ways to donate – texting KIDS to 45678 is the easiest way to make an instant $20 donation – or you can visit Variety.bc.ca. Bonus points for anyone who can also get this messaging into their social media post.
Prizes & Winners:
Contest closes Friday, February 19, 2021 at 12:00pm
Winners will be selected by a jury from the Miss604 social media team and announced on February 20, 2021 at 12:00pm.
One winner will receive a $100 prepaid gift card, and two winners will receive a $50 gift card.
Last year's Show of Hearts raised $5,515,238 to benefit children with special needs throughout the province. Donations can be made by calling 310-KIDS, going online, or by texting "KIDS" to 45678 to make an automatic $20 contribution.
Miss604 is the proud Social Lounge Sponsor of the Show of Hearts
*Original photos only. The publisher must be the owner of the image. Your photo may be shared on social media by Miss604 and Variety BC but will not be used in any promotional material. It's all yours! Open to residents of BC only.