The SFU Faculty of Arts and Social Sciences ("FASS") has announced the scholars selected for the 2020-21 Jack and Doris Shadbolt Fellowship in the Humanities Program: Otoniya Juliane Okot Bitek, Eden Robinson, Fabian Romero, and prOphecy sun.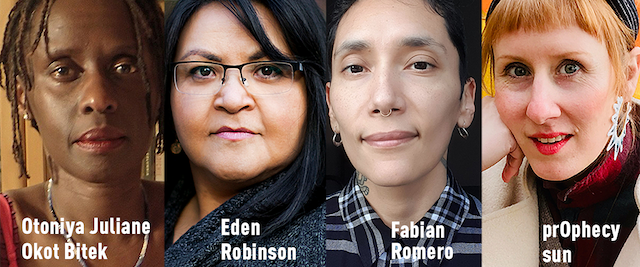 SFU's 2020-21 Shadbolt Fellows
The Shadbolt Fellows will engage with Metro Vancouver communities through exhibits, performances, artworks, workshops and events that realize FASS's values of advancing reconciliation; equity, diversity and inclusion; and collaboration.
Otoniya Juliane Okot Bitek — an Acholi poet whose collected published poetry and essays provide revelatory new insights into, and narratives of, war and processes of reconciliation based on a deeply-rooted cultural understanding of the practices of storytelling.
Eden Robinson — a Haisla and Heiltsuk novelist who is currently working on the final stages of the last book in her Trickster trilogy.
Fabian Romero — an Indigenous community-based artist and filmmaker from Mexico who lives in Washington State. Romero brings a depth to their work formed from their own struggle as a Purepécha non-binary youth activist.
prOphecy sun — a Canadian emerging artist scholar who has an accomplished record of scholarship, research-creation, experimentation and teaching experience in the arts sector. She has co-authored several peer-reviewed book chapters on installation, sound art, film and domestic spaces.
Meet the Fellows Online Discussion
Join the Shadbolt Fellows in a panel discussion moderated by Stephen Collis (Professor, SFU Department of English) and June Scudeler (Assistant Professor, SFU Indigenous Studies).
When: Wednesday, January 27, 2021 at 6:00pm
Where: Online
Tickets: Free with registration
The program increases the visibility of the contributions of the humanities and arts to the university community. It also engages the wider community through publicly involved scholarship and creativity.