The following has been contributed by Steffani Cameron, who recently completed a 4-year worldwide adventure that she chronicled at FullNomad.com.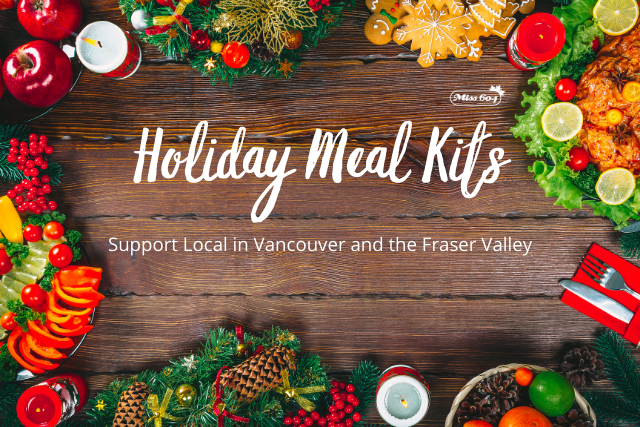 Holiday Meal Kits From Vancouver Restaurants
Lights are up, decorations abound, but it's feeling a lot like a very strange Christmas indeed. Events are on hold, big gatherings are off, but there's one way we can all celebrate and enjoy ourselves – with all the tasty things. Food has always been at the heart of an enjoyable Christmas, and it still is.
With the BC government announcing the release of a stimulus cheque this month, one great way you can enjoy life while helping others is by supporting BC eateries and tastemakers.
Prepared meals and takeout dishes are keeping restaurants alive in one of the hardest years BC's food industry has ever faced, and here at Miss604.com, we're grateful for all the joy they've provided us over the years. Here are just a few of this season's great options for supporting local joints, but this list barely scratches the surface of those providing tasty, wonderful things this holiday season.
Vancouver Eateries
Mm, Turkey: Homer Street Café and Bar has a three-course dinner for two for $85 ($42.50 pp). This classic turkey dinner starts with butternut squash velouté and ends with seasonal shortbread and molasses cookies. The turkey dinner is traditional with mashed spuds, stuffing, roasted sprouts, honey-glazed carrots, and country-style giblet gravy. But hey, don't forget they have tasty weekend brunches and mimosa kits, all available for take-home noshing too.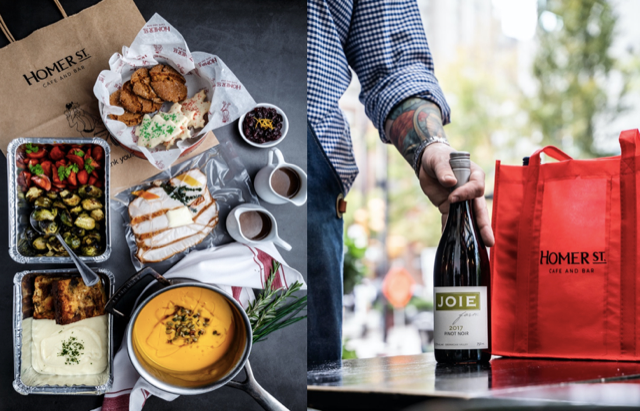 Always Room for Pizza: Rocky Mountain Flatbread Company made its name through tasty wood-fired thin-crust artisanal pizzas, but now you can replicate the experience at home with their new take-home frying pan pizza kits. Each kit has all the ingredients for two pizzas made with their crazy-tasty fermented dough. Kits can be ordered online to be picked up at their Main Street or Kitsilano locations or arranged for delivery. Vegan and gluten-wise options are available as well, along with their regular menu.
Feasting Fit for Royalty: Hawksworth has an unparalleled reputation for fine dining in Vancouver, and they're offering succulent family-style roast dinners for winter dining – including a prime rib dinner for six for $568 or a porchetta roast dinner for six for $400 – which require 72 hours' advance notice and come unsliced for a better at-home dining experience. Each winter roast is for six diners, but they have a Christmas feast for four or six people, which must be pre-ordered by Friday, December 11th. Check out their other seasonal yums, like their "hot toddy" cocktail kit, cheeses, charcuterie, and individual three-course meals.
All the Tasty Local Things: Forage is another iconic Vancouver restaurant offering three ways to "Forage" for the holidays. Takeout holiday dinners are available from December 18th to 26th but must be ordered in advance and picked up at your pre-selected time. Choose between entrees of smoked boneless pork rack, specialty roast turkey, or a vegan nut roast with miso-maple gravy, each of which comes with a seasonal salad and some sticky toffee pudding featuring a whisky caramel. They've also got a limited quantity of whole turkey dinners featuring an 8-kilogram JD Farms specialty turkey roasted to perfection with stuffing, gravy, cranberry sauce, and garlic mashed potatoes, for pickup on the 24th, 25th, or 26th, at $375.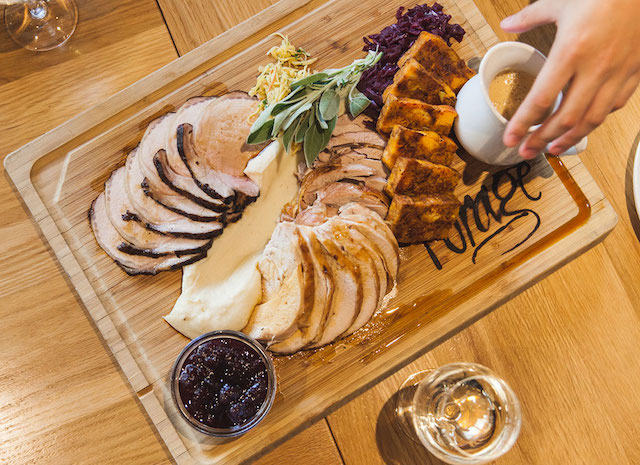 Did Somebody Say Lazy? The Lazy Gourmet has taken a load off those entertaining at home for 40 years now. Their holiday offerings are not to be explored on an empty stomach. Including the porchetta feast for six at $220, there are options for everyone. Per-person prices cover their set menu offerings, like the Vegetarian Christmas Set Menu or the Traditional Christmas Set Menu, all of which start at $39 a person, depending on the fixin's you opt for. Add-ons include nibbles like their Vegan Tapas Platter for Two or Charcuterie & Cheese for two. Don't forget the wine – with heavy-hitting BC tasty bottles from Lastella, Mission Hill, and Narrative. Also available are a range of gift baskets.
Merry Cheesemas! Les Amis du Fromage is the one-stop shop for that glorious thing we can't get enough of – cheese! From raclette grills and fondue kits, and freezer meals that include dishes like Alpine Mac & Cheese or Coq au Vin, Les Amis du Fromage is where convenience and decadence converge.
Holiday Meal Kits For Fraser Valley Foodies
Choices, Choices, Choices! Well-Seasoned Gourmet Food Store in Langley is offering take-home meals that change weekly. Check their website for what's on offer each week, but don't forget their wide assortment of ready-made meals in their refrigerators, which just need reheating before enjoying. For those who have a skilled hand at roasting a turkey but don't want the insanity that comes with, they have a $99 "Everything But the Bird" kit for four people, including salad, stuffing, roast veg, buttered carrots, mashed spuds, gluten-free gravy, cranberry sauce, rolls, and even homemade "Nanaimo Bar Cheesecake". (Gasp!) When you pop in to pick it up, look for gifts for your favourite foodies.
A Farm-to-Table Holidays: Abbotsford's Restaurant 62 is all about farm-to-table dining, and their turkey dinner feeds four to six folks for $250 plus taxes. All the fixings include whole roasted Rossdown turkey breast, gravy, cranberry-thyme confiture, sourdough-sage stuffing, whipped potatoes, carrots and parsnips, sprouts roasted with bacon, and more. They have delectable add-ons for those who can't get enough of the good stuff, and offer some great BC wines by the bottle as well.
Multiple BC Locations
Match Eatery & Public House has nine locations in British Columbia, including the Island, and they're offering a three-course holiday meal plus wine for taking home to enjoy. Meals start with soup and end with a rum & eggnog bread pudding, with an entree choice of turkey, blackened chicken breast, or stout-braised AAA chuck rib. A variety of sides round out this tasty meal and the kits are ready-to-eat. A kit for two to three people, depending on appetites, runs for $90, while five to six eaters can be fed for $165.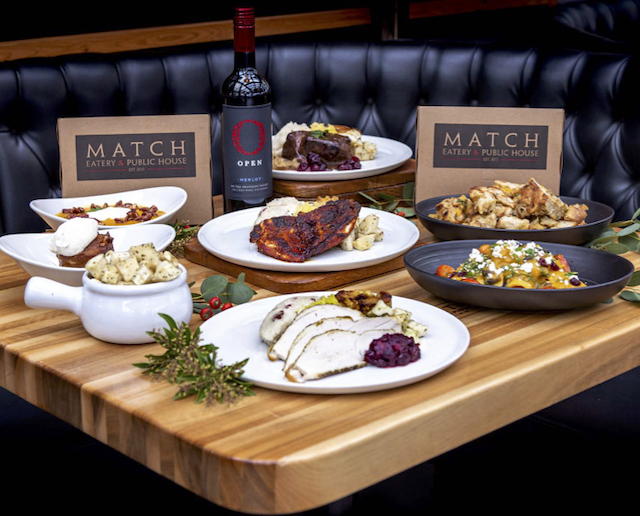 Atlas Steak + Fish has locations in Burnaby and Langley serving up somethin' good for you and yours at home. Their four-course meal with wine includes a charcuterie and cheese selection, soup, and a choice of entrees, sides, and a caramelized apple bread pudding. The entrees include smoked prime rib (with Yorkshire pud, red wine jus, and horseradish), cinnamon-braised lamb shanks with port-steeped figs, or a smoked salmon steak served with a pistachio and cranberry chutney.
And So Many More…
All our favourite eateries and pubs and cafes are struggling this holiday season and most have great options for take-out meals every day of the week. Places like Gastown's The Irish Heather and White Rock's Washington Avenue Grill are offering affordable take-home holiday menus starting as low as $25 per person. Support restaurants and cafes by purchasing gift cards, too.
Whether it's holiday offerings or just a way to take a load off, supporting locally owned restaurants is important this year. Food is part of our culture, and everyone from that little takeout stand you love through to bakeries and cafes are all struggling this year. With every meal you buy, you're keeping our food culture and neighbourhoods alive – and their people employed. This year give your favourite eateries the gift of your continued support.
All prices are those available online at time of publishing.