Four companies, three nights, one theme. Upintheair Theatre presents The Array, the second in its annual series, to muse on the theme of First Contact through four new short works will be streamed for audiences.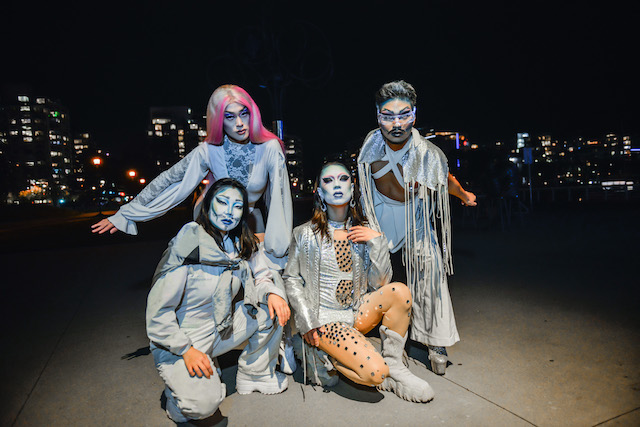 The Array: First Contact
When: December 3-5, 2020 at 7:30pm
Where: Online
Tickets: Available online now, pay what you choose $10-$40
Commissioned interdisciplinary art groups—House of Rice, Hunters, Tricksters & Mystics, Popcorn Galaxies, and rice & beans theatre—are developing these 15-20 minutes works in a two month span to take on board different perspectives and investigate a range of possible futures unfolding from 2020.
First Contact between humans and aliens is a long-standing trope of sci-fi and speculative fiction, often as a veiled metaphor for the ongoing impacts of Western colonization. This year's theme comes with added significance in these socially distanced times as we dream of a post-pandemic future where we can once again freely socialize with our fellow human beings.
Show Synopses
Connection Error: Attempting to reconnect…
House of Rice; Created and performed by Maiden China, Shay Dior, Kara Juku, and Skim
In this new production from the House of Rice, drag artists Shay Dior, Maiden China, Skim, and Kara Juku share the importance of human contact by navigating through a socially distant future. From early on, we are raised as social beings and encouraged to form connections with one another. When faced with social isolation, in what ways do we cope with losing so much of how we live? Through a series of performances, the narrative follows Mother of the House of Rice, Shay Dior, in exploring the depths of loneliness in an alternate space, and trying to connect with their chosen family.
what it would take for you to take my hand again
rice & beans theatre; Created and performed by Derek Chan and Pedro Chamale
Touch. Contact. Sweat. Droplets. Jam-packed with raw, unfiltered contact (with proper protection) between Derek Chan and Pedro Chamale (co-artistic directors of rice & beans theatre), what it would take for you to take my hand again is a meditation on the absurdity of the way things were, how we have adapted, and how we continue to roll with it.
The Dead Letter Office
Popcorn Galaxies; Created and performed by June Fukumura and Keely O'Brien
You are invited to participate in The Dead Letter Office, a theatrical letter mail experience by Popcorn Galaxies! In this interactive letter exchange, you'll be writing and receiving mysterious handwritten letters delivered across time and space. Inspired by the phenomenon of lost, undeliverable, and misdirected mail that finds its way into the postal service's office for "dead letters," this strange and delightful project attempts to create curious connections and deliver otherwise impossible messages.
Snagged in the Loop
Hunters, Tricksters & Mystics; Created and performed by Nyla Carpentier, David Geary, Raven John, and Taran J. Kootenhayoo 
Indigenous perspectives on doom scrolling and online dating. David Geary wrote Men of the World with Deborah Wilton, premiered by Upintheair Theatre in 2004.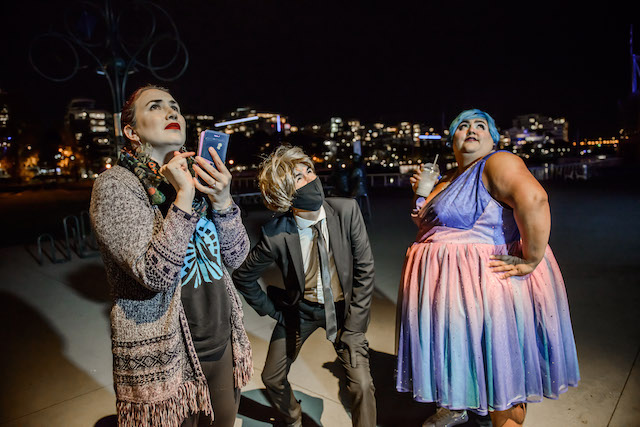 Co-artistic producers, Daniel Martin and David Mott, will host each evening with a post-show live talkback with the artists via Zoom. Each performance is streamed Live on VIMEO, and was pre-recorded at The Cultch Vancity Culture Lab.
Related: Theatre