This month's VisitCoquitlam guest post features the ultimate guide to cozy Coquitlam cafés!
Fall is synonymous with crisp days, lots of layers and finding moments of solitude with a warm mug in hand – whether it's filled with a Pumpkin Spice Latte, Chai, apple cider or other seasonal flavour.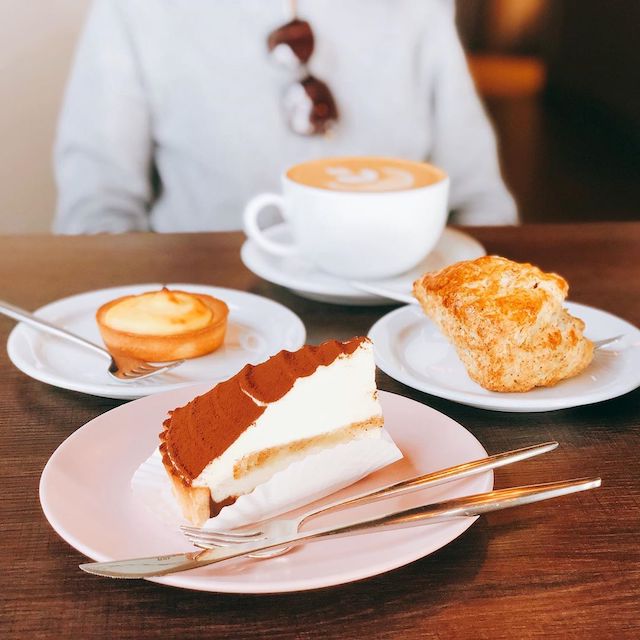 Cozy Coquitlam Cafés
These Coquitlam cafés are worth seeking out if you're looking for a COVID-safe and quiet space to read or study, or if you're grabbing a cup on the go to enjoy beside the soccer field. In fact, consider it a challenge to work your way through the whole list and share your favourites.
Beyond the Usual
Sure, you can find coffee on most streets throughout Metro Vancouver, but we guarantee it's not going to be anything like these! Plug these cafés into your GPS and check them out after your next hike or on next shopping adventure.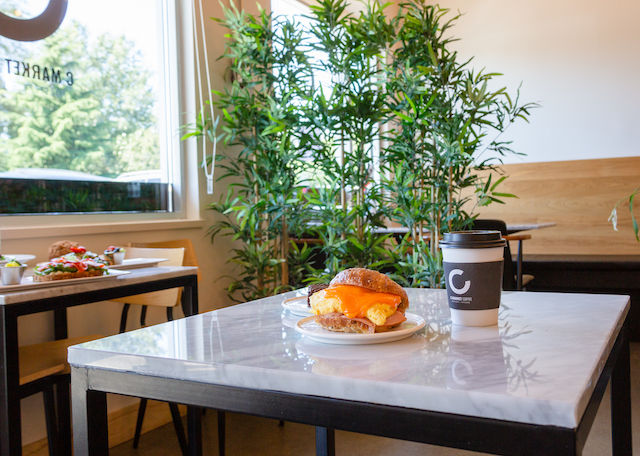 C Market Coffee: Locals can't stop talking about this bright and loveable café in Maillardville. Although it's one of the newer coffee shops on the block, rave reviews keep flooding in. Coffee is roasted on-site and the food keeps people coming back for more. Definitely one to try. This café currently offers dine-in seating.
Coffee + Vanilla: Meeting up with a friend in your bubble? Or maybe you need some quiet time to work on your novel? This sweet spot located in Austin Heights may just inspire you. Try their French macarons (gluten free), croissants or cakes baked fresh daily, and specialty coffee, including Burundi Yandaro Drip Coffee. This café currently offers dine-in seating.
Cafe Delitzi: You know it's going to be an amazing coffee when your glistening milk foam looks like it should be on a canvas. And check out the Freakshake! You may just want to stay a while, thanks to their raw, vegan and organic food, juices, smoothies and treats. This café currently offers dine-in seating.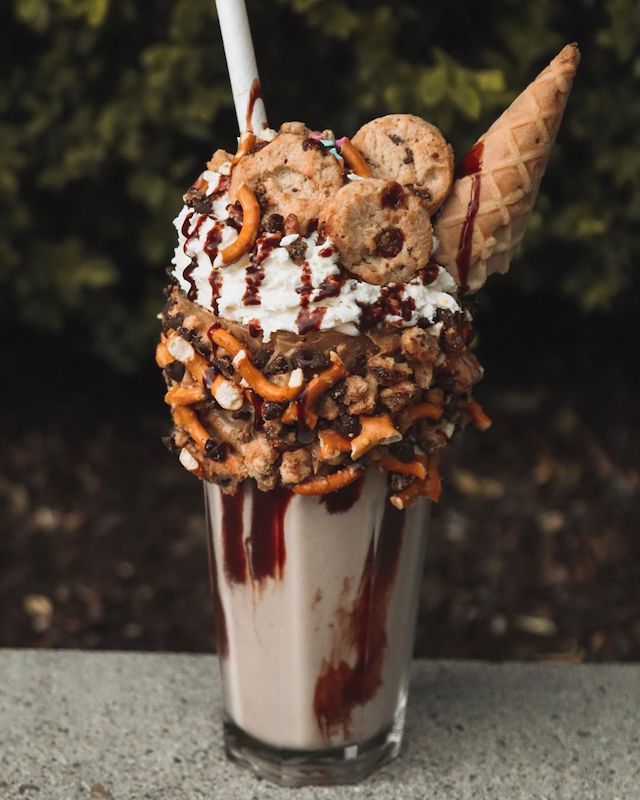 While in City Centre (Lafarge Lake/Coquitlam Centre)
Planning on getting a jump on your holiday shopping at our local businesses? Or maybe you're in the mood for a walk or run around Town Centre Park's Lafarge Lake? Whatever the case, don't miss these cozy cafés – easily reached by foot from one of the two closest SkyTrain stations: Lincoln and Lafarge Lake-Douglas.
Awesome Place Coffee & Dessert: Just as the name suggests, this awesome place is a hip hangout with a warehouse vibe. They offer artisanal coffee drinks with an assortment of treats including tarts, pastries and macarons. A popular order is the Hazelnut Espresso Pound Cake – decadent and delicious. This café currently offers dine-in seating.
Brisk Café: Tempted to try a Persian breakfast (Kalepacheh)? This café is for foodies, offering meals all day as well as a wide and varied selection of drinks, from lattes and teas to smoothies and virgin cocktails. This café currently offers dine-in seating.
Café Dorothy: Located in Henderson Place Mall, this warm and welcoming space serves fresh baked goods and freshly brewed coffee, tea and ice blends as well. This café is currently only offering take-out options.
Caffé Divano: This café is a popular spot kitty corner from Town Centre Park. They serve their own signature coffees that are roasted locally by Pallet Coffee Roasters. Pair it with some baking made from scratch with natural ingredients and you'll add extra zing for your walk around the park or shopping blitz. This café currently offers limited dine-in and a patio with covered seating.
Cup Full Dessert Café: Within the Henderson Place Mall food court, this cute Korean-inspired dessert café specializes in espresso drinks and shaved ice bingsoo, which taste as amazingly as they look. This café is currently only offering take-out options.
PappaRoti: A bright and airy café with great coffee and mouth-watering treats including the buttery, coffee-caramel coated "father of all buns." Try their signature coffee caramel bun warmly wrapped around ice cream. This café currently offers dine-in seating.
A Short Drive Away
Beanery Coffeehouse & Eatery: A short drive from the shopping hub of City Centre, this gem in Westwood Plateau is a local favourite. Round out your locally roasted coffee with an artisan-style thin crust pizzas or gourmet sandwiches. All products are made fresh from the finest Italian and local ingredients available. This café currently offers dine-in seating.
Creekside Coffee: This quaint spot is a local secret, tucked into a quiet corner of a shopping plaza along Barnet Highway. They roast their own beans and grind them fresh on site. The atmosphere is youthful and hip, in a relaxed and modest way. This café currently offers dine-in seating.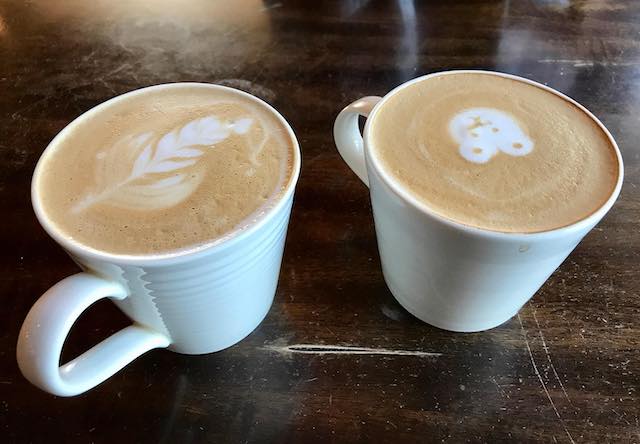 While Shopping in North Road / Burquitlam
Unofficially known as Koreatown, North Road is a hub of Korean businesses including everything from restaurants and cafés to clothing shops, pharmacies and grocery stores including H-Mart. Check out the hidden gems along this street and don't miss these fun café finds, all local favourites with international flair.
Coffeeholic: Stop into this café on North Road to refuel during your shopping blitz.Their espresso drinks are freshly grounded and hand-crafted. You'll also find teas, milk teas and other eye-popping delicacies. Locals also love their macarons and cakes, offering gluten-free options. This café currently offers dine-in seating.
Connected Minds Café & Roastery: Think Arabica beans and custom-roasted coffee suited to your taste. Drop in and check out the micro-roasters at this Clarke Road café. Have a coffee while your order is roasting. In a hurry? Call in or order online and pick up in store. ine-in seating currently not available.
Cafe Hashtag: Located next to H Mart on North Road, this stylish place is a thing of beauty, as are their CroWaffle treats (a croissant waffle on a stick). You'll find coffee as well as an array of milk teas and bubble tea. This café currently offers dine-in seating.
Passion8 Dessert Café: It is all in the name. Locals rave about this cute café, where you can pick up Korean shaved ice desserts that almost look too pretty to eat. You'll find this spot for unique, tasty treats on North Road. This café currently offers dine-in seating.
Did we miss one of your favourite Coquitlam cafés? Tell us about your favourite! Contact VisitCoquitlam and share your photos over social media using #ExploreCoquitlam.