Dress for Success Vancouver ("DFSV") will host their annual Success Luncheon virtually on November 4th. Each year the event offers the DFSV community of sponsors, supporters, ambassadors and champions the opportunity to connect, share a meal and hear from inspirational women within the organization and the community.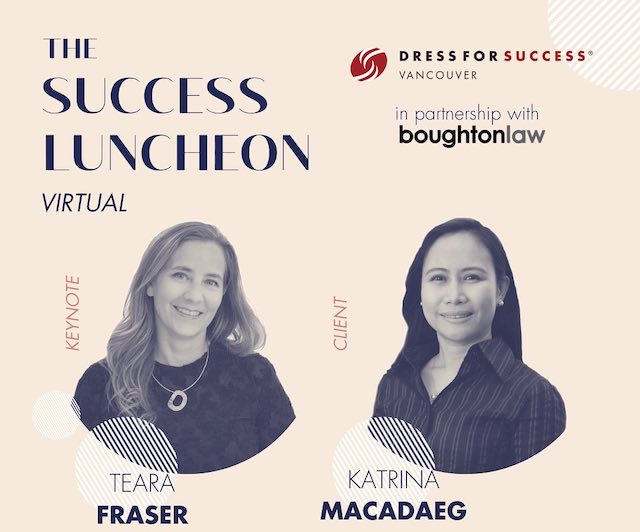 Success Luncheon for DFS Vancouver
Where: Online (with lunch delivery)
When: Wednesday, November 4, 2020 at 11:45am to 1:00pm
Tickets: Available online now
This year, lunch from the Lazy Gourmet will be sent to homes around Vancouver so guests can enjoy a meal together, even though attendees will be connecting through the screen.
At this year's event, Dress for Success client Katrina Macadaeg is their Inspiration Award winner for 2020. Although Katrina arrived in Canada with Chemical Engineering and Master in Technology Management degrees from the University of the Philippines, she found it difficult to secure employment in Vancouver. A story all too common amongst DFSV clients.
This year's keynote speaker is Teara Fraser, Lead Executive Officer of Iskwew Air and Raven Institute.
Due to COVID, DFSV pivoted their services online developed new systems to help women respond to government assistance and programming while creating an online community to keep their clients connected and supported. This was accomplished even with severely reduced funding, staff working remotely and uncertainty looming. Your ticket will help fund pre-employment and job retention programs for women, so that all can recover and thrive together.
Dress for Success Vancouver is a community empowering women into the workforce by providing them with professional attire, career services, and skills development programs.