For the first time, the Splash Art Auction & Gala for Arts Umbrella will be hosted across multiple locations ranging from leading restaurants to private venues. The flagship fundraiser will carry on its tradition of supporting youth arts programming with a combination of in-person and online experiences, presented by Nicola Wealth.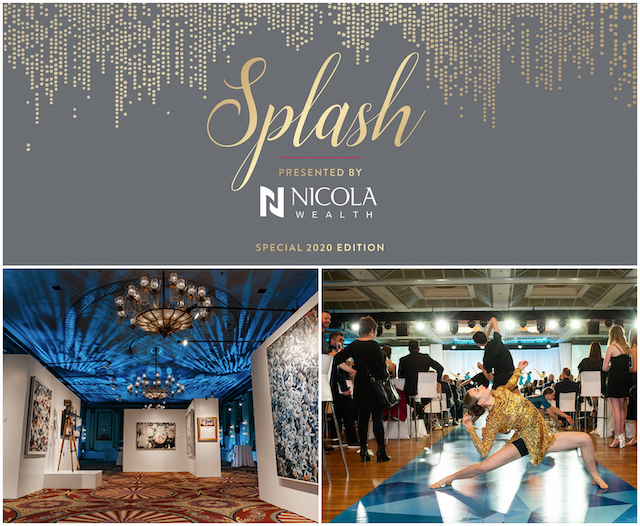 Splash Art Auction & Gala for Arts Umbrella
When: Saturday, October 24, 2020
Where: Various locations & at home
Tickets: Available online now. Gala $400 (includes food/beverage with open bar, hosts and evening entertainment at each location, art catalog and more with partial tax receipt); Luminary tickets: $750 (includes priority placement at private gala locations, recognition during the live broadcast, and significant tax receipt)
In addition to enjoying Splash's special 2020 edition, ticket holders will receive an invitation to a private tour at the Pendulum Gallery to preview the Splash 2020 Art Collection (util October 16). Art collectors unable to attend Splash in person need not miss out on the opportunity to bid: at-home tickets are available for purchase, complete with local catering delivery.
Venues will each have a maximum of 50 people as per provincial government and health official guidelines. Organizers anticipate attendance to exceed more than 500 business and community leaders, patrons, collectors and art enthusiasts from across the country.
The live auction will employ a state-of-the-art platform that connects guests at every event location via large digital screens. As for the art, guests can explore close to 100 artworks by renowned contemporary artists from across Canada, including Dana Claxton, Douglas Coupland, Andrew Dadson, Kim Dorland, John Hartman, Angela Grossmann, Marie Khouri, Danny Singer and Stephen Waddell.
Splash has earned a citywide reputation as one of the most successful annual fundraising events, and this year guest health and safety will be a top priority for Arts Umbrella. In addition to following guidelines from the Public Health Agency of Canada, the BC Ministry of Health and the BC Centre for Disease Control, the organization will continue to monitor changes to the current situation, and adjust event logistics as necessary. All guests registered to attend a private gala location will be contacted with a COVID-19 safety checklist, and are required to comply with requested screening and protocols.
About Arts Umbrella
Launched in 1979 as a grassroots project, Arts Umbrella has evolved into Canada's leading non-profit organization for arts education for young people. Splash is anchored by an acclaimed live and silent auction of artworks entirely donated by the Canadian artist community. The event has raised more than $7.2 million in net proceeds to date, allowing young people across Metro Vancouver to access Arts Umbrella programs and workshops through bursaries, scholarships and donor-funded community programs.