The much-loved Hope in Shadows calendar from Megaphone Magazine has been re-designed this year as a more functional, conveniently sized day planner.
Hope in Shadows is a photography project that shares the stories of people experiencing poverty and homelessness through their own lens, and in its 18-year history, it has put more than $1 million directly into the pockets of low-income vendors in BC.
Hope in Shadows Day Planner
Where to Buy: Online Here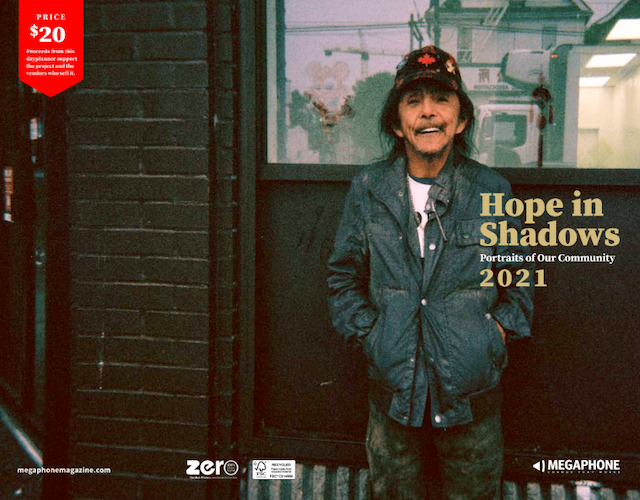 The 2021 day planner features 13 beautiful photographs captured by photographers from the Megaphone community. It also includes memo space, tear-away notecards, stories, and much more.
The project challenges stigma around poverty by making space for people to share their own stories through photography. Street vendors who sell the day planner participate in a photography contest hosted by Megaphone each spring. They are given a single-use, disposable camera and five days to go out and take pictures of their lives — capturing images around a different theme each year. The theme for the 2021 project is "Home".
Hope in Shadows is a project of Megaphone, a non-profit organization that offers meaningful work to people experiencing poverty and homelessness. People with low income work as vendors, selling a monthly magazine and annual Hope in Shadows day planner on the streets of Vancouver and Victoria to earn income while making valuable community connections. Vendors buy each day planner for $10 and sell it to customers for $20. They keep the profits. It's flexible work for people who may have barriers to traditional employment.
This year, despite being hampered by COVID-19 restrictions, vendors equipped with masks, hand sanitizer, and physical distancing protocols went out into their communities and brought back approximately 1,500 photographs. Those images were pared down to the top 32 photos, selected by a community jury and online public vote. From there, 13 winning photographs were chosen for the 2021 day planner — plus extra images and four tear-away notecards.
About the Cover Photo
The winning photo and cover of the 2021 dayplanner was taken by vendor Gina Holland (Nisga'a-Carrier). Entitled "Moricetown, Home Sweet Home," it's a portrait of her childhood friend John Edward Tait (Wet'suwet'en-Gitxsan).
Gina has known John since she was a child, and the last time they saw each other before the picture was taken in June was more than 20 years ago in their hometown of Witset, formerly known as Moricetown. Seeing John after all this time reminded Gina of her years growing up in northern B.C. She thought taking his picture would fit right in with this year's theme of "Home."
As of today, Megaphone street vendors in Vancouver will sell the day planner as long as supply is available. Customers can find and pay vendors directly with their smartphone using the Megaphone App, available for free download from the iTunes and Google Play stores. Customers can also purchase this day planner online and receive it via mail or in-person pickup.