"I feel like we have somewhere to be," John said to me as I stepped out of my slippers and told him to stay in bed a little longer. I plucked my mask from the mantel above the fireplace and headed out the door.
I squished some hand sanitizer out of the dispenser in the hall and called the elevator while I looked out over valley of green and gold treetops. My goal was to help John relax, and the Fairmont Chateau Whistler was the perfect place to do so.
Fall at the Fairmont Chateau Whistler
You see, when John travels with me on a Miss604 assignment he's used to an itinerary: Cool people to meet and interview, adventures to photograph and experience, delicious dinners and days planned down to the last minute. This was not that kind of trip.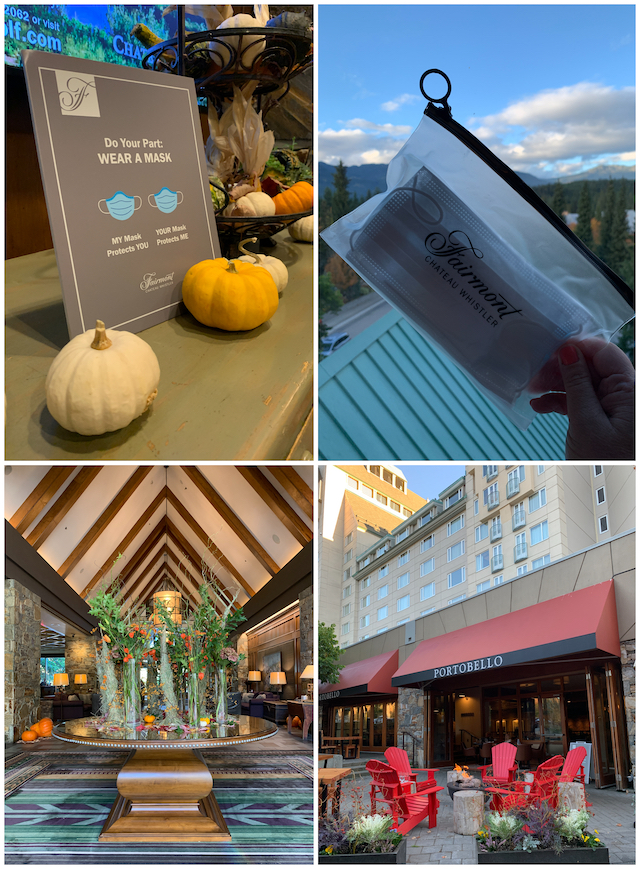 I walked past the Artist in Residence who was setting up their easel in the Fairmont lobby, which was adorned with decorative pumpkins and foliage. Stepping through the automatic doors a warm rush of autumn air kissed my cheeks as I took off my mask and multi-coloured leaves loop-de-looped across my path like an animated Disney movie about the season.
My first mission of the day: Deliver breakfast from Portobello. I could have reached the eatery through the lobby corridor but I wanted to step outside and see the Blackcomb Village in all its autumn splendour. Bright red Muskoka chairs circling a fire pit, trees shaking off their yellow leaves on the edge of village path, and the ski runs in the distance as green as a fairway in spring.
This was just during my walk to breakfast on the first day.
I did have a plan for John though that involved him getting out of bed at some point. We reserved a spot at the Fairmont pool, where we had the choice of three hot tubs to ourselves in the autumn sunshine. We had the three-course dinner at The Wildflower in the lobby (which is $39 on Tuesdays). We walked to Whistler Village several times, stopping to snap pics at the iconic Fitzsimmons Bridge, and shopped some late/early season clearance sales.
The path between Whistler Village and Blackcomb Village is also called the Cultural Connector so we made sure to use it as designed. On our last morning we got some coffees (and a delicious carrot cake stuffed sandwich cookie) from Portobello and walked over to the Audain Art Museum. We hung out with some Emily Carrs, Robert Davidsons, Frederick Varleys, EJ Hughes, and Bill Reids.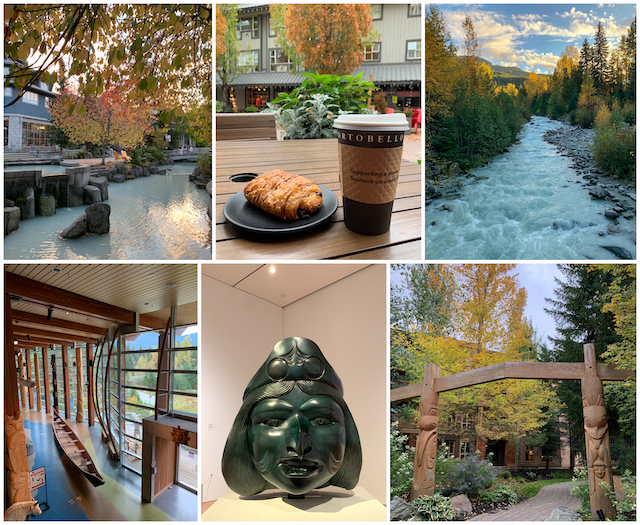 From the art museum, we walked back toward the Fairmont Whistler where they have setup the Salish Stroll, in partnership with the Squamish Lil'wat Cultural Centre, which was our next stop.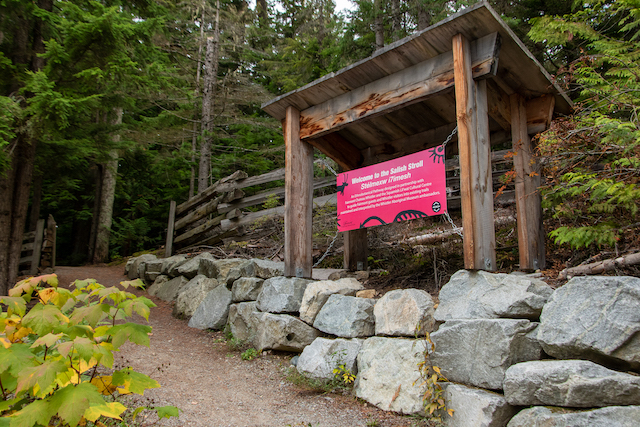 The SLCC is a must-visit when in Whistler, to learn about whose land you are visiting, their culture, their history, and their really neat projects on the go with artists working on totem poles and drums right in the great hall.
We had beautiful weather, hot tub time, scrumptious eats, leisurely walks in nature, and healthy doses of culture which all recharged our spirits. Everywhere we went there was contact tracing, masks, and other COVID safety protocols. There were also no lineups, no crowds — it's a great time to consider a trip up the Sea to Sky.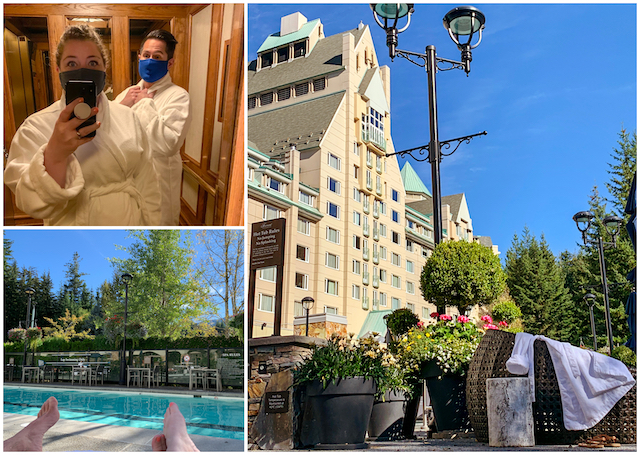 If you book now, and I mean right now, you can enjoy the Woodlands Rooftop dining experience with an Oktoberfest theme today until Sunday (October 11, 2020).
Fall Packages and Perks
BC Residents' rate, 20% off luxury accommodations at Fairmont Chateau Whistler
Stay longer, 15% off 1-2 night stays; 20% off 3-4 nights; 25% off 5 + night stays
Book the arts and culture package and get admission to the Audain Art Museum, the Whistler Museum, and the Squamish Lil'wat Cultural Centre
COVID Protocols at the Fairmont Whistler which we appreciated:
Temperature scan upon arrival
Contact tracing at restaurants
Reservation system for the pool to ensure safe occupancy numbers
Masks mandatory in all common areas
Frequent hand-washing encouraged, along with plenty of hand sanitizer stations around every corner
For photos and videos from our stay you can follow my Instagram story and follow the Fairmont Chateau Whistler on Instagram and Facebook for more getaway inspiration.
Getting There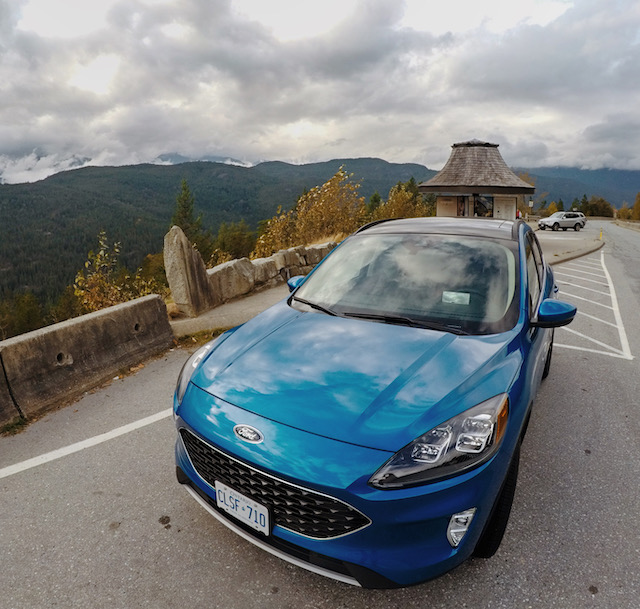 Thanks to Ford Canada for the Escape Titanium Hybrid for this adventure.
Using the Adaptive Cruise Control on the Sea to Sky Highway was a breeze, and I love that how going downhill or braking (which you'll do a lot on the mountainous route) charges the electric battery.
The Head's Up Display (HUD) minimized distraction and I like how my cruise control was locked in there. Lots of cargo space, seat heaters (it's that time of year) and a Bang & Olufson sound system made for a very comfy ride.