Denyse Waissbluth has traveled to over 20 different countries and experienced teatime in every single one. In her new children's book Teatime Around the World, she pairs her sweet, simple poetry with facts about tea cultures worldwide.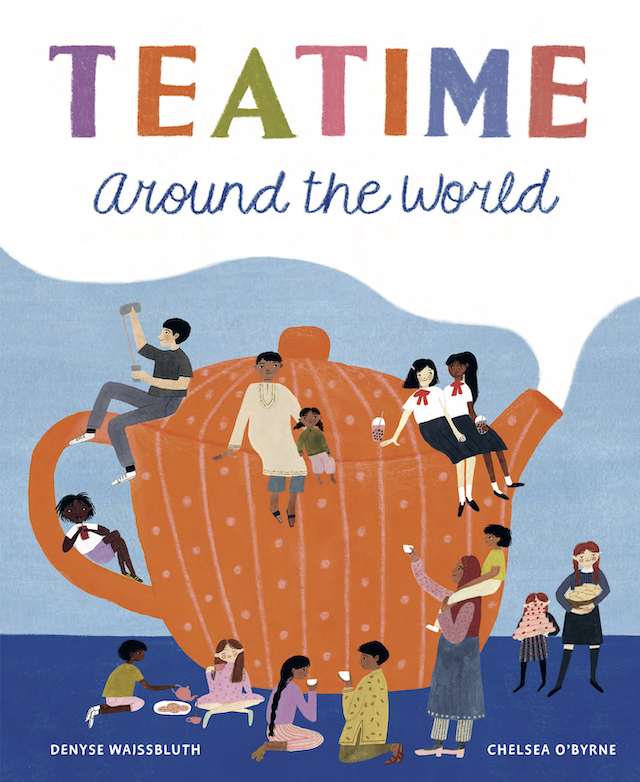 Teatime Around the World
With illustrations by Chelsea O'Byrne, this poetic picture book takes children of all ages on an adventure around the world to discover new cultures and friends through tea. I had the chance to chat with Denyse about the book and her own global adventures with tea.
What inspired you to write this as a children's book?
"My interest in teatime started at a young age. Growing up I spent a lot of time at my grandparent's farm in rural Manitoba where there was always a pot of tea steeping, ready to welcome guests. The idea of tea as a means of hospitality is one that stuck. As I started to travel as a young adult, tea often acted as a gateway to meet new friends and learn about different cultures.
For example, by enjoying the regional Dragon Well tea at a local tea house in Hangzhou, China or tasting the deliciously sweet "Teh Tarik" (meaning pulled tea) at a night market in Singapore, or accepting the invitation of a shopkeeper in India to sample chai (while browsing the store), I've always met new and interesting people, and learned about different places, people and cultures. I wanted to translate this openness and curiosity into a children's book as kids are the most open, warm, friendly, curious people I know. That's how the idea of Teatime Around the World was inspired."
I recently had "High Tea to Go" delivered during isolation and it was such a treat. What do you think makes 'tea time' so special?
"I think of tea as a universal language of sorts, which has many different dialects. While the drink itself dates back thousands of years, and has a very eventful and colourful evolution, I've always known it to be a source of hospitality, welcoming and friendship. Seeing the world and learning about different people and cultures through the lens of tea (how it's manufactured, prepared, celebrated, consumed, shared) is a very grounding and eye-opening experience. You can learn a lot about others, and a lot about how you see yourself in the world through tea."
How do you like your tea?
"There are six main types of tea: White, Yellow, Green, Oolong, Black and Pu'erh tea. (Herbal teas are called tisanes, and aren't technically teas as they are not made from the Camellia sinensis plant). My personal favourite is Pu-erh, which is the only tea that's aged/fermented. It has a very rich, deep, earthy flavour. I take it black! I take most tea black, as good quality tea is really nice on it's own."
Do you have a favourite local tea shop or purveyor?
"I love discovering new places/purveyors in Vancouver and when I travel. I'm a big fan of Silk Road Tea, which has locations in Victoria and Vancouver. The owner and Tea Master, Daniela Cubelic, is exceptionally knowledgeable and only offers great quality teas. I am also a fan of taking the Aqua Bus on the weekends to visit the Granville Island Tea Company (ask what their secret ingredient is in their Chai recipe). For special occasions, afternoon tea at the Fairmont, is a treat."
Is there a tea experience (trip, place) you haven't yet done but would like to/What's on your 'tea bucket list'?
"Yes! Here at home, I would love to learn more about how Indigenous Peoples in Canada incorporate herbs, leaves, roots into tisanes. I'd also love to visit Canada's first tea farm in the Cowichan Valley: Westholme.
Abroad, Iran and Morocco are on my tea bucket lists, as I am fascinated by their unique tea cultures and traditions. I have a husband and three-year-old son, and think all of these experiences would be very enriching to do as a family."
Teatime Around the World is available October 27th from Greystone Books and wherever great books are sold.
Enter to Win
I have a copy of Denyse Waissbluth's Teatime Around the World to give away, here's how you can enter to win:
Leave a comment on this post (1 entry)
Click below to post an entry on Twitter
[clickToTweet tweet="RT to enter to win a hardcopy of the new book #TeatimeAroundtheWorld from @greystonekids http://ow.ly/2WoJ50BZ5Ae" quote=" Click to enter via Twitter" theme="style6″]

I will draw one winner at random from all entries at 12:00pm on Tuesday, October 27, 2020. UPDATE the winner is Jan!